Two strips on a pregnancy test very often do not just change lifestyles, but also many views on life. New sensations appear, a lot of questions arise.

Signs of pregnancy
In the first weeks of pregnancy, the body is completely restructured. Even when others are not yet aware that you are expecting a child, your state has already changed.
In addition, that there is no menstruation, there is a general weakness, often want to sleep, increased fatigue. By the way, toxicosis does not always begin immediately, I began to feel sick around the sixth week of pregnancy.
Another one of the main signs of pregnancy is a change in the breast, it swells and becomes painful.

Emotional condition
In the first weeks of pregnancy, the hormonal background of a woman changes, she becomes more irritable, emotional. During the pregnancy I reacted sharply to any comments. Many pregnant women cry for no particular reason.
During pregnancy may appear unfounded fears. For example, my girlfriend all pregnancy was afraid of childbirth. Nothing helped her, in the end, she simply persuaded the doctor to make her a cesarean section.

Visit to the doctor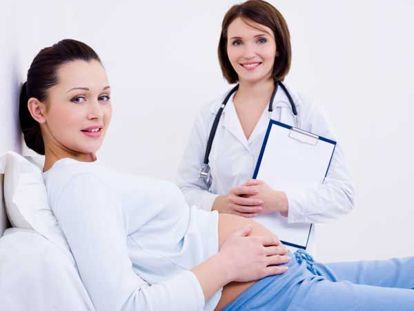 Having learned about pregnancy, of course, it is not necessary to immediately run to the hospital, but the doctor must be visited in the first 12 weeks. You need to get registered and undergo a full medical examination.
I went to the ultrasound before going to the doctor. But this is optional. We just waited so long for the onset of pregnancy that we wanted to confirm it exactly. When the ultrasound showed that I was pregnant, I went to the doctor at the place of residence.
If you wish, you can register with a paid clinic. This offers several advantages, such as testing and queuing up consultation.
The first visit is the longest. The doctor fills out a pregnancy card, asks a lot of questions, gives general recommendations, and also writes directions for tests.

Medical examination
After the first visit to the doctor you are given directions for a full medical examination. It is necessary not only to pass all tests, but also to undergo various specialists who will assess general physical health.
I was lucky, in the sense that I learned about pregnancy before going on vacation and I made trips to hospitals easily. Otherwise, I would have had to inform my colleagues, but I didn't want to tell everyone at once that we were expecting a child.

What tests are needed?
The first step is to pass a general blood and urine test. In addition, the blood group and the Rh factor are determined by blood. They also make a biochemical blood test and must send blood for syphilis, HIV and hepatitis B.
Often, doctors say to take paid tests for the presence of sexually transmitted diseases. Maybe this is not necessary, but it seems to me better to make them. Even if the first pregnancy in a woman after 30 years, then she is given a direction to genetics.
All pregnant women must attend a surgeon, a neurologist, an ophthalmologist, a dentist and a general practitioner. If there are any specific diseases, then they are sent to other specialists. For example, I also went to an endocrinologist and a urologist.
The first weeks of pregnancy are very important for the full development of the child. It is important to follow all the recommendations of the doctor, to lead a correct lifestyle. From the very first weeks, a pregnant woman should take care not only of her health, but also of the unborn child.