I am in the maternity ward, I sit in the corridor in a hospital shirt and in a dressing gown, an empty corridor with open doors, shouts and groans of women in childbirth, instructions of doctors, and shouts of children just born are heard everywhere. I'm not scared. I just have to go through this. I am not afraid, I cannot wait to occupy my ward and be closer to the birth of a child.
My doctor invites me to the examination room, asks questions, fills the paper, pierces a bubble and that's it, go to ward number 7 (lucky number). I am adjusted for easy childbirth, fights at me are not strong yet, I am self-assured. All is well. Time 2 am.
The beginning of the way

They put a catheter and immediately begin to drip something, I can not get out of bed. Contractions intensify. The doctor comes in every half hour, looks at the opening, there is no opening. We wait. Contractions intensify. A doctor comes in. Watching the opening. There is still no discovery. We look forward to the next. The contractions are even stronger, I begin to recall breathing techniques. I am writing to my husband sms. He does not respond. I understand that I am alone.
A doctor comes in, already unhappy, surprised that I'm so writhing if there is no discovery. I say it hurts me. I am offered anesthesia. I refuse, saying that I can still endure. As soon as the doctor leaves the ward, I understand that I can no longer tolerate …
The most painful wait

My doctor comes in with the head of the department, she looks at the discovery, says that you should wait. My doctor is outraged that the bubble had already been punctured a few hours ago. Contractions ineffective. Offers to prick some medicine. The head says – there is nothing every second prick, let them give birth. Waiting is delayed …
I listen to the groans of women in labor from neighboring chambers, proud that I myself do not cry like that. But at the same time I don't know how to breathe and remember whom to make it even a little easier. I have a catheter, they don't even allow me to stand up to ease the pain. I remember the unkind word of my husband, who is sleeping peacefully at home, and I'm taking a fuck for two.
I was torn to pieces, I did not expect so much pain. I get anesthesia. The pain subsides a bit, but I still feel it. I am thinking about the early birth of a child, about how tonight I'll be with the child in my arms. 8 in the morning. I'm calling mom. She offers to talk with the doctor on the phone. I refuse. I trust these doctors.
My doctor comes in, she has found the very medicine. I prick him. And here fights begin faster and stronger. Then I'm ready to start moaning and screaming in pain. The attempts begin. I, well aware of the fact that such attempts, however, I go to the toilet. A nurse, who at this time washed floors next to him, calls for doctors – saying that this is childbirth.
A person immediately runs into the ward. 7. Everyone is doing something. I am transferred to the delivery chair. Give short instructions about breathing and how and when to push. And I think to myself – I have to give everything 100% so that this wild, hellish pain would rather end. They give me the command to push, I push with all my might. I am praised. I understand that when you are straining you do not feel the pain of labor. I like it.
The next fight, again I am pushing, is already a lever like a tigress from the pressure. The doctor praises me, says that everything will end soon. The third attempt. Head out with her right hand. Make a cut. The fourth attempt and everything … O bliss … Into my blood, probably a good charge of endorphins or something else poured, I thought I was floating above this bed.
I did it

Finally, this pain is gone … I did it. 11 o'clock in the morning. Past me sneak my baby, who looks right at me. Though my mother laughed at me, but it was really so. In the first second, he seemed to me very much like a husband. I am happy that the birth has ended, and everything is fine. I passed the most important exam in my life. I'm done.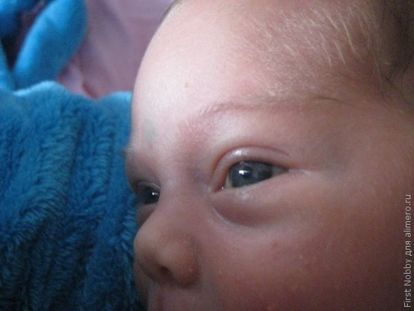 Then they bring me a prize rolled into a tight bundle of diapers, with a scarf and already asleep. Give a kiss on the cheek. My lips cover the whole tiny cheek completely … First kiss of my beloved, tiny, defenseless baby. He is taken to the puerperal ward. And I still sew half an hour. Then give me up, I realize that I do not feel my body. I almost fall. They pick me up.
The nurses ask if I can walk myself. I open my mouth and understand that I cannot speak. I so have no strength that I can not say anything. They, not understanding anything, look at me. They understand that I feel bad, sit in a gurney and take me to bed. There I'm lying like a lemon squeezed 10 times and think about the horror that I just experienced.
Who are you baby

I feel like crying from pain, from bleeding, from nauseating me. I am given a baby to attach to the chest. Such a stranger to me, I think – who is it? Who are you, a little creature that squeezed me, also sucked right away and drinks juices out of me … I look at my lips and lips, at my tiny little eyes, at the little snub-nosed nose. I still do not know this man, but already every second I penetrate to him with feelings.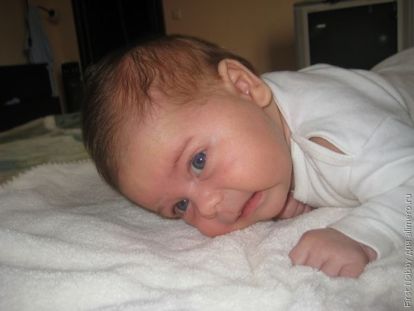 Every hour, every day, every morning, seeing my baby, I understood how much my heart became even more from love for him. And every day during the first year I could not believe that I became the mother of such a wonderful baby. This is just a real miracle – the miracle of the birth of a new life.