The epic began as soon as I learned about pregnancy. The word childbirth enveloped me in a mysterious halo of tenderness and beauty. The image of ideal childbirth was inspired by reading positive stories from books. And I tried to materialize him.
A maternity hospital, good fairy midwives accompany me to the maternity unit, so they forgot about an enema. What happiness! I'm giving birth. I am stroked on the head, I accept those poses that I like and now, a small fish floats on God's light. Good hands pick it up, and they put a little baby on my belly. Fairy midwives are happy, nice music is playing …
It was winter, the breeze outside the window was played with the first snowflakes, the house was warm and cozy, the most dear people gathered together under the same roof.
Oh, how nice my husband is massaging my legs and somehow strangely twists my stomach all day so that it can be? And then strange thoughts began to creep into my head: What if I give birth? As everything is going well, it's already night, which means there will be no traffic jams, fine. I'll go and sleep. And at 3 o'clock in the morning my husband and I went to bed.
And I again thought: So, if I give birth, and I read that sperm is very useful for smoothing the cervix. So, you have to wake up your husband. The poor husband, not understanding anything, satisfied my demand and fell asleep again. And here began, they, painful fights.
Choosing a panther style, I stumbled into the bathroom, got some warm water and settled down. Easy relaxation ran through the body, making it clear that everything is going right.
An hour later, I snuck into my mother-in-law's room and woke her up with the words: It seems I am giving birth. Looking at me, and then at the alarm clock, the mother-in-law decided that it was still too early for me to give birth and offered to sleep, suddenly dissolve. And I believed, what if? I had to confess with feeling, with tact, with the arrangement that I was not resolving, and they decided to take me to the hospital at the women's council.
Her beloved husband, with bulging eyes, called a taxi, and then steadfastly played the role of a hanger and a hanger. In the maternity hospital, the husband and mother-in-law with a heroic look quickly surrendered me and also quickly left to inspect sweet dreams. And I was left alone at the mercy of strangers.
The materialization ended on such a non-positive note, everything did not go the way I wanted. In the reception bad aunt registered me. The same aunt introduced me to the toilet, our love with him did not last long, but she was passionate. Dear toilet, you will always remain in my memory. I gave you everything that I had. And delicious meatballs, and. Oh, I will not be about sad.
Then, I, so cheerful and calm, was taken to the Rodblock. The whole army of books and articles read before my eyes. Beautiful images helped me, that I am not here, I am there … on a green lawn, I sit myself meditating, fly around butterflies.
The lawn disappeared, butterflies scattered at the moment when CTG was placed. This monster was able to read the intensity of contractions and their interval. He tortured me with belts and bed rest, but I was left alone, as the unkind aunt told the midwives that I was trouble-free.
Butterflies have returned since the start of the effort. What a thrill it is! I was in seventh heaven. Parrot, loss of consciousness, scramble, and I am again there, flying with butterflies.
At birth, the main thing is to relax the mouth, and then the whole body. In some mysterious way, the mouth is connected to the cervix. And disclosure depends on its relaxation. And as best I could, I relaxed my mouth first, and then my whole body.
During the attempts around me a lot of people gathered, and they all wanted something from me. And chorused Tsuzhu. So, well, breathe, breathe. The head became as clear as God's day, and I worked with all my might, but the butterflies were still there. On some attempt at 8.45 in the morning our girl was born. I asked not to wash the grease. From vaccinations refused.
Acquaintance with daughter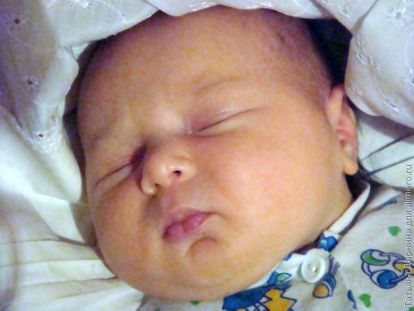 An hour later, my daughter was put to her chest, before that she was sunbathing under a light bulb. While she was lying, I told my sleepy husband that he had become a dad. The phone heard sobs and articulate speech, which she meant, the story is silent, clearly there was one thing that from the happiness of her husband lost the gift of correctly expressing his feelings with words.
An hour later, a daughter and I were teleparted to the ward with a daughter on a wheelchair. I put it next to me and looked at it. God, how is she, so beautiful was placed in my tummy. These legs and arms were pushing me. How lovely!
My materialization almost succeeded. Our joy was born with a weight of 3130 grams, as we agreed with her. My daughter was accepted by the midwife's good hands, the doctors were going to meet me when I asked for something. True, my fears that they would not understand me correctly, did not allow the whole plan to be realized. Although this is not the main thing.