When I was pregnant, I, for some reason, did not think that I would have stretching 🙂 My stomach was not very large, I gained weak weight. In general, I was too self-confident in this regard.
Of course, they imposed cream on stretch marks in my store for future mothers, but I practically didn't use it — occasionally. And as a result, I paid for such a negligent approach to my skin.
After birth – a surprise
I gave birth) A wonderful moment in my life. My stomach was sleeping a little, and I was finally able to see my legs. And also – the lower abdomen. And then a shock awaited me – I had a huge amount of stretch marks! The entire lower abdomen was simply streaked with unaesthetic scars. It was then that I regretted that I had not warned these charms in advance. After all, it was possible to avoid such a sad outcome!
But it was too late to regret. It was necessary to act! Although I had no idea how I would get rid of stretch marks. In general, along with the most wonderful event in my life, I was rewarded with stretch marks.
My fight with stretch marks
At first I began to actively use the cream for stretch marks, which, in fact, I had to actively apply during pregnancy. It was foolish, of course, to hope for a result, but then I didn't know what to do at all. And in the first month of my acquaintance with a new life in the role of my mother, to be honest, I had no time for beauty. Therefore, I started with a cream, hoping for something.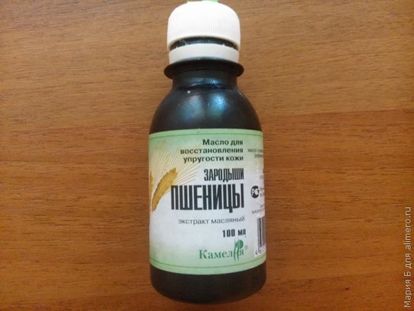 Of course, after a month of daily rubbing there was no particular result – time was lost. Then I climbed into the Internet to see how other mommies were saved from stretch marks – I'm not the only one.
Many have recommended wheat germ oil. Given that it is not expensive, and its properties promise an excellent result not only in the fight against stretch marks, but also in general skin care, I asked my mother to buy me it. By the way, she had to run around to find this oil. But as a result, she came to me with a purchase.
In general, as it turned out from the instructions, this oil is a very good drug. It can be applied to the skin and eyelashes. I began a comprehensive struggle for beauty.
Every day, when the daughter slept, I smeared my belly with oil. To enhance the effect, then it was covered with tight food film and so went for half an hour. Then – a shower, with active massaging of my problem area. And so – a whole month. Of course, I was not always able to do these procedures, but I tried.
The applied mask did not deliver discomfort to me, allergies did not appear, everything was washed out quickly. After the procedure, the skin on the abdomen became very soft, pleasant to the touch. Stretch marks went away too, but at a very slow pace. Well, this is understandable – I launched myself, I myself am guilty. A month later, the stomach began to look more or less decently, but, of course, not perfect. I decided not to stop and use the oil all the time.
Now my daughter is already 1.2 years old. For half a year I actively used oil, and I will tell you – today I am back to normal. Nice to look at the stomach – not a single stretch! In addition, the skin is soft, straight velvet! Now I decided to smear my face with this oil – let's look at the result!
And I want to give advice to all future moms – warn in advance the appearance of stretch marks! You may not even know what it is after childbirth! Do not miss the moment, otherwise you will walk with this beauty for a long time!
Mommies, but if you are still faced with stretch marks, share, please, how did you manage to beat them?