I always believed in omens. Somehow it happened in life that they come true. If the dishes are beating, then we have a joyful event, when the hand itches, be sure to meet someone or get money. And there are a lot of such coincidences. But recently she met her friend, she is in a position, and she suddenly became interested in what signs there are for pregnant women.
From my personal experience, I can say that indeed, omens in life play an important role. The funny thing is that some ladies become superstitious at a time when they are carrying a child. After all, we are experiencing not so much for ourselves as for our little one, for his health and destiny.
In my life there were two wonderful pregnancies, which resulted in two children – a daughter and a son. I would like to share my observations and attitude to the signs with the same moms.
The tummy begins to grow at all differently. Thinner tummy grows faster, and is visible almost 2-3 months of pregnancy. I, for example, already at 3 months of pregnancy, the tummy was visible to the naked eye. In full girls, a tummy may appear by the 4th or 5th month of pregnancy. But to determine the sex of the child on the tummy can be already in the 3rd trimester of pregnancy.
At my first pregnancy, my tummy was wide, round – and I gave birth to a girl. My husband and I were planning a second child so that the children would race together and be interesting to each other. So after a while I got pregnant again. I immediately realized that I was waiting for the boy. Because my second pregnancy was completely different. And my tummy was sharp, and my son was lying very low.
I also noticed the stirring. Girls move more in the left side, and guys – in the right. Well, my friend was waiting for twins, then her tummy was a real dance floor for her mobile kids.
They say that during pregnancy you can not cut hair. It used to be that hair is not only a subject of female beauty, but also a factor of its vitality and energy. I did not take the risk and did not cut my hair during pregnancy. In 9 months my hair grew gorgeous, fluffy and soft.
You can not stroke a cat during pregnancy – the child will have many enemies. But what about the vets, and those who live at home pet? Due to pregnancy, throw the animal out? Doctors in this regard will say that contact with animals threatens toxoplasmosis. My tests showed this infection, but I was able to bear and give birth to a healthy baby.
A swollen and full face is for the birth of a girl, and a thin face is for a boy. It's true. At least I had it that way.
A pregnant woman can not steal – the baby will have a birthmark on the body. It's true. My mother-in-law, being in position, picked flowers from her neighbors in the garden, and, frightened by an evil neighbor, hid chrysanthemums under her jacket. Now thanks to her, my husband has a birthmark below the breast in the shape of a flower. How not to believe in this sign? Anyway, how can you steal?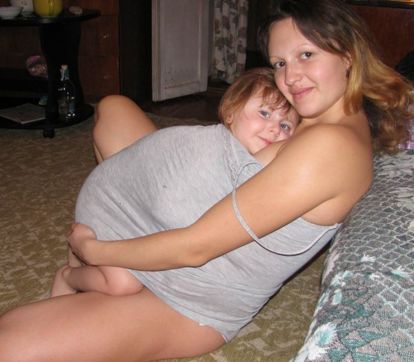 A woman in the position can not be kicked animals, touch their feet – the child will be hairy. It's true. My sister-in-law did not believe in this and did not take the omens seriously. She had a hairy girl, and, alas, her hair was not washed on her hands, legs and face.
If the daughter looks like a father, and the son looks like a mother, then they will be happy. My children are very similar to the husband, and only my son has some of the features of mine – dimples and the shape of the eyes. I hope and willingly believe that they will be happy!
This is not all superstition, there are many! And to believe in them or not is the individual business of each person. Maybe something in your life coincided?