During my pregnancy (in the second trimester, when the tummy became noticeable), women around me with experience began to frighten the process of labor. Listening to the colorful stories of those who, during childbirth, fainted from pain, I gradually panicked.
As it happens

At that moment, my nervousness was so noticeable that my gynecologist recommended that I immediately go to preparation courses for childbirth. Alas, then I could only get to the end of the course, and I did not want to get into the group. And then I decided to visit a psychologist in private.
As it turned out, these visits were much more effective than the courses. I was not only able to prepare for my first birth psychologically, but also to get rid of some other fears.
Of course, I am not a professional psychologist and I cannot help you to get rid of problems in a magical way. But now, from my own experience, I can say that individual psychological preparation for childbirth will give excellent results when it comes to business.
Do not hesitate to contact a specialist, your peace of mind and confidence – this is the key to the health of your baby. And remember – you have the right to go to another doctor if you are not sure about it or feel discomfort when communicating.
I had two psychologists. The first one strongly put pressure on me when communicating, and after the sessions I even sometimes felt guilty for my own inferiority. Apparently, he considered shock therapy a good remedy.
When I turned to another doctor, the situation became much better and I was able to successfully solve my psychological problems, and after each meeting I had a feeling of lightness and a surge of strength.
Art Therapy

If you do not have the time or the opportunity to go to childbirth preparation courses or a psychologist right now, you can try art therapy today. To do this, you need to arm yourself with something like this: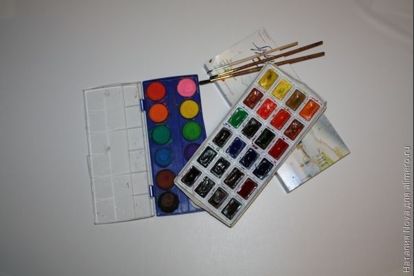 The principle of art therapy is that you depict your emotions with images that come to you when you think about something. If your drawing is associated with negative emotion, then tomorrow you will be able to add something to your work so that the associations change to positive ones. Draw what you want, the quality is not important.