I used to think that pregnant women should think all the time about the child, and therefore, should immediately wear clothes and shoes for pregnant women. How wrong I was!
Of course, you need to limit yourself in something, but not globally, at least in the first periods, until our legs felt the weight of the baby, and the walk did not resemble a penguin.
My shoes during pregnancy
I have always loved heels, but not very high, so as not to cripple my legs, therefore, my shoes are flat only in summer. In the summer of my legs and so hard from the heat, why strain them once again.
When I got pregnant for the first time, I specifically bought myself demi-season shoes without a heel, because I had to give birth in May, and consequently, I had to leave pregnant in the fall, and right in the spring before birth. I was lucky with winter shoes because I had boots on the platform.
But when she got pregnant the second time, the shoes and demi-season and winter was on the heels, but on a steady one. Since the birth was at the end of July, the hardest period for the legs was in the summer, when I was already changing shoes into flat sandals.
Heels to help
Having rejected most of the pregnancy in heels, I realized that it was not as scary as it seemed before. A steady low heel will not hurt your child if such shoes are comfortable for you and do not cause discomfort. I was exactly like that.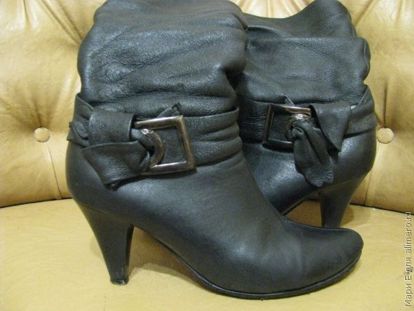 It even seemed to me that I walk more carefully on my heels, not run as usual, but I'll go round any unevenness of the road to make sure that the heel does not fit.
Waiver heels
And yet, whatever the comfortable shoes with heels, but already in the seventh month of pregnancy, it should be abandoned in any case, and better before. After all, our center of gravity is changing, and on our feet there is a heavy load. Why deliberately harm your body, especially if there is swelling of the legs.
You can also add that when walking on heels in the later periods, there is a risk that the child will take an incorrect posture, while the mother may have a sagging belly.
Personally, I was very surprised by one girl I saw on the street. She walked in a short denim skirt and boots with high heels at a time when she was already somewhere in the seventh or eighth month of pregnancy. As for me, it looked so ugly.
A pregnant girl is beautiful without heels and miniskirts, because she glows from the inside, and short skirts can be left for later.
Did you wear heels during pregnancy?