Someone during pregnancy brings some positive emotions, others, unfortunately, the opposite. I would like to enjoy a pleasant wait, but it was not there. I want to talk about my problems this time, changes in the body and appearance.
First and second trimesters
I learned that I was pregnant before the test showed 2 strips, before the delay. I do not know what it was for a premonition, but it did not let me down. When at last a pale second strip began to appear on the test, I ran for an ultrasound and everything was confirmed.
Somewhere from the fifth week I was overtaken by toxicosis and he left me only after the third month of pregnancy. The times were not the best. I practically ate nothing and lost 4 kg. But then everything returned to normal, I began to eat a lot and quickly gained weight.
The tummy became noticeable to five months. Of the ailments I remember only frequent visits to the toilet, especially at night, and frequent sneezing. During sleep, I was laying my nose so that I could not breathe, and I had to get up and do the washing. For the rest, I felt good, my problematic skin on my face became clean, and my hair that was always falling out was thick and thick.
The third trimester is the most difficult
I didn't have any clothes, I had to buy a new one. The stomach began to grow very quickly, and with it the rest of the body. It was summer in the street, the heat, it was already difficult to move, and shortness of breath appeared. Edema formed on the legs. By the end of the pregnancy I had nothing to wear from my shoes, somehow I found sandals.
It was possible to sleep at night only on one side, on the back was choking. Closer to the birth could not sleep at all, spun every half hour. She became irritable, did not want to communicate with anyone. The doctor forced me to take tests, to come to the reception almost every week, and it was so hard for me.
My son was very active and constantly kicked me. From 9 months, I began to be disturbed by a rapid pulse – up to 140 beats per minute every day, while the state was terrible, so basically I slept. I wanted to quickly give birth, because it was already unbearable to wear such a huge belly on swollen, like a bear, legs.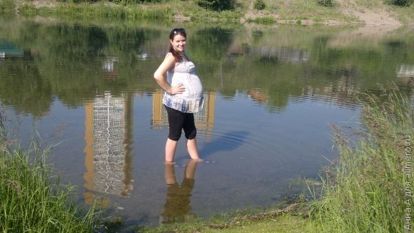 A few weeks before giving birth, I had stretch marks on my stomach and thighs, I smeared them with creams, but it was too late, they were becoming more and more. I drank a few liters of fluid a day, although doctors strictly forbade it. My whole back and pelvis ached, I felt such a strong pressure on him that I could hardly walk, my gait changed a lot.
Hooray, finally it was all over!
It was already 41 weeks of pregnancy. I prayed every day to give birth soon, but there were no harbingers. One hot July day, my husband and I decided to go to the beach, to lie in the sun by the water. I did not particularly sunbathe, but my arms and legs were still burned. It was very hot, I strongly overheated, which caused childbirth (I do not regret anything).
That night I didn't sleep until two at night for some reason I didn't know, my waist was aching a little. In general, it was not for nothing that I whined, after 12 hours I naturally gave birth to my long-awaited son weighing 4670g, 59 cm tall. My body immediately became lighter, and almost all the ailments disappeared as if by hand.
After all that has been experienced, I am already thinking, will I still give birth? I do not think that my next child will not be so large and the pregnancy will be easier, since it is physiologically built into my body. But still it was worth it.
Do you have any memories of this pore?