Among my relatives there are two women who have given birth to children at the age of 40. One had the first pregnancy, the second had a younger son. Since I also have a child, it is interesting to me to observe and analyze how to give birth and raise children in adulthood.
Ira and Masha

My two-year-old son has a first-age cousin. Her mother is 42, that is, she gave birth to a girl at 40, and Masha is the first child in the family.
At her age, Ira already really wanted a baby. It turned out only from the second attempt: the first pregnancy two years earlier ended in failure.
The second time, being pregnant with Masha, the woman was constantly on conservation, practically did not show up at work, she felt disgusting. The deliveries were very difficult, but despite this, the child was born healthy.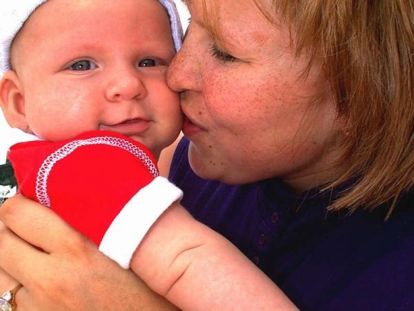 The long-awaited child is growing very beloved by their parents. Mom blows a speck of dust from a girl, dad does nothing. But, comparing their manner of upbringing with the methods of mine and my friends of girls who gave birth at 23-28 years, I find a lot of differences.
For example, modern young mothers all polls are fighting for the earlier development of the child. In the boxes for toys of their children, first of all, developing puzzles, geometric cubes, sorters and similar fun. Machines are toys, dolls, nevalashki, crockery.
My friends and I take children to classes at children's centers. There we, along with the children, play finger games, dance, draw, sculpt.
Masha lead only walk.
My son and I had three times already recorded and walked into the pool. Ira was very surprised when I told her that at ordinary polyclinics there are swimming pools where very young children can get useful water procedures.
Of course, all this is subjective, but I see that it is much more difficult for a mature woman to change her lifestyle for the sake of a child. It's harder to get out of the house once more, come up with fun entertainment, do something new.
Machine mom prefers to do the usual things, bring up the child without much damage to their usual routine.
Thinking about what awaits Masha in the future, I can't help but recall the experience of my aunt.
Aunt Helen

Aunt gave birth to my cousin also at 40 years old. He became the second child in the family, his eldest sister at the time was 10 years old.
Aunt Lena worthily carried the child away, without complaining to anyone about her well-being. Childbirth was exemplary.
Parents raised their son in the image and likeness of other Soviet families. In 11 months – nursery, then – school.
By the time Igor finished school, his parents were under 60. So, the guy had to make his own way into life. Nobody arranged for him to college, did not buy off the army. He entered, finished himself, works by himself, without relying on the help of already elderly parents.
Igor and his wife bring up two children, but without the help of their grandparents, who are unable to sit with their young grandchildren.
Another brother said that it was very hard for him to experience the period when his parents literally turned from energetic people into retirees. It is difficult for a teenager who is in transitional age to accept the fact that mom and dad become older people.
Do you have enough strength?

I am proud of women who gave birth at 40. This is a very important step, and mature mothers love their children very much. But I still have a question.
Every parent is planning to help his child. Is it not terrible, giving birth to a child in 40 years to understand that in a decade and a half, it will most likely be hard to take care of him?