Hello everyone, my name is Victoria. I am 24 years old and I already have a wonderful daughter for 2 years and 10 months. My pregnancy took place just at the time of studying at the university on a full-time basis. I got pregnant being a fourth year student.
There were a few months left until the end of the year, so I safely finished my studies, without particularly dedicating anyone to my little secret. In the summer I passed the exams and only practice remained at the factory.
Do not worry, I did not need to stand behind the machine, my profession was writing papers. By that time, the belly had already grown decently and the boss, noticing my interesting position, didn't strain me much. Helped, gave work at home.
And my practice has flown by, by the way, quite successfully. The report was written and delivered on time. The new school year was near. Last school year. The decree just came on August 31.
I was worried about many questions: how do I complete my education? Can go to the correspondence or evening department? Or is it better to take a sabbatical for a year? Do I want to finish my studies after academic? How to deal with the baby, because she will be born in November, and I will often have to leave the university?
Variants of combining pregnancy and study
Go to the correspondence department – a reasonable enough option. The undoubted advantage for me was that the child would have to be left only for the duration of the session. There were more minuses – an increase in the term of study, that is, I would have finished a year later my classmates, and the fact that we had correspondence education on a fee basis. Financially, we would definitely not pulled.
Taking a sabbatical is exactly what I wanted to do. For a year my baby would have noticeably grown and I would leave her with a grandmother with a calm soul and complete my studies. As in the previous version, a whole year would be lost, and the young mother would have to join the new team.
So, I collected my thoughts and went to the dean of our faculty. With our dean, we still had and still have a very strict lady, respected by all, many are even afraid of her. Contrary to all my fears, she immediately offered me a free attendance of classes throughout the course. All that was needed was to approach all the teachers and take on a task that needed to be completed for the winter session.
These were usually abstracts. Only one teacher did not agree to completely release me from classes, so I worked out laboratory classes with my group. Went to birth, a month break, and then with students from the magistracy closed the remaining classes.
Winter session passed without problems. There was a pre-diploma practice, a state exam and a diploma defense. I had practice at the same factory, the boss was favorable to me and freed me, then threw off all the necessary documents for me to report and diploma. Heads passed unnoticed and did not take much time away from me. A diploma was written fairly quickly, the main thing was to force myself to sit down for it and go for a couple of consultations on issues of interest to me.
How and with whom did I leave the child?
I had to entrust my baby to my mother-in-law, because my mother teaches at school and the schedule did not allow me to take a lot of days off to let me go to classes. And the mother-in-law worked in shifts, therefore sometimes having changed her work schedule, she could come to us for several hours.
I was breastfeeding the baby, so I decanted my milk, frozen the supplies and left fresh before leaving. Fortunately, the daughter reacted well to the bottle, so there were no problems.
In the second semester, I took my daughter with me to the university. A great helper for me was the sling. With him, we calmly reached by public transport to the university, did all the necessary things to study and drove back.
It was not very simple, but not very difficult. It is quite real. I know many mummies, whose first children appeared at the very beginning of their studies, and by the end of the fifth year there were already two, or even three children. Even if there is no help from relatives, you can find a way out, agree with the dean and teachers, and go to class straight with the baby.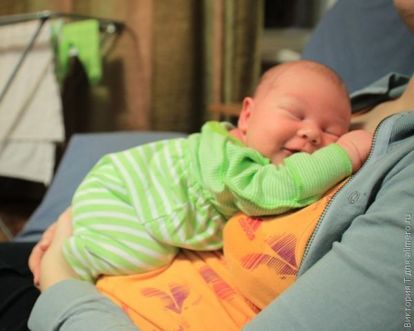 Nowadays, everyone prefers to build a family closer to thirty years, when there is already a stable job, an apartment and other amenities of life. I do not regret a bit that I gave birth when I studied at the university, because I already have a daughter and a career, and I can achieve everything I want.