Probably, all pregnant girls deep down feel the fear of the main event of their life – the birth of a baby. On this important day, I want so much to have a close person beside me and give a little moral support.

How we prepared for partner childbirth
I, like many girls, being in an interesting position, already at 6 months of pregnancy began to think about childbirth. The main questions were: where to give birth, which specialist to choose, to give birth to one or someone close to you.
My husband and I approached the issue of partner births with full responsibility. Not every hospital such a service takes place, besides, it is found that the presence of her husband at birth is asked to pay. We studied all maternity hospitals of our city, read reviews of women in labor. The only solution for us was the perinatal center, which was famous not only for the best specialists in the city, but also for the possibility of free partner births.
Previously, birth certificates needed to stamp the chosen maternity hospital, now this is not required. We learned that you can just come to the hospital at the hour X by ambulance or by car and we are obliged to accept.
Next was the question of who will make me a company in this difficult matter. There were nominations of mothers and husbands (and her husband's candidacy was chosen according to my coercion).
We decided to consult with experts how the process of childbirth affects men, the benefit of acquaintances among medical workers is enough. We found out that many men who attended childbirth, later had problems with potency (which we were absolutely not satisfied with), but being present during labor is nothing other than a little stress experienced with the spouse. This option was perfect for us.
A little girl's birthday
And on July 24, this long-awaited day arrived. Well, what started – we did not immediately understand. At 4-30 I ran into the most popular place in the house, my stomach did not hurt, so my husband reasonably suggested that I had eaten watermelon and recommended that I go to bed. As an obedient spouse, I fell asleep, but an hour later my tummy got a little sick. An ambulance was called for safety net, although the DA (the expected day of birth) passed a week ago.
We were brought to the perinatal center as early as 6 in the morning. I didn't feel any particular pain, and while we were made out, my husband and I giggled in the corridor. After examination, it turned out that the disclosure was already 7 cm, and the doctor ran us to the patrimonial chamber.
I'll tell you so, my husband's presence helped me a lot. It was not boring plus there was a man brought and served. When the contractions intensified, we were offered a gymnastic ball. The husband sat back, massaged the sacrum. This allowed to relieve pain and, of course, psychological support of her husband. When the birth process began, the spouse retired from the ward and nervously ran through the corridors of the center.
Already at 10-30 our son was born and very loudly announced this to everyone around him. Amiable midwives invited her husband to us to be the first to wear a baby cap and socks. You should see this proud and radiant face of the newly-made dad. With what charm he put tiny socks and a hat on his son. He was the very first of our entire large family to see Artyomka.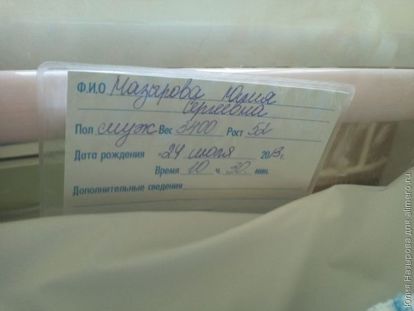 My findings

The presence of her husband at birth will have a very beneficial effect on his relationship with the child. From the first minutes of life, dad will feel a great responsibility, indescribable happiness and frenzied love for his child. For a woman in labor, the presence of a loved one will help overcome fear and mentally tune in childbirth. Of course, you should not force it, it should be a mutual decision, only in this case everything will go smoothly and without unnecessary hassle.