Previously, I had the opinion that a man does not need to attend the birth of his wife. That it is not decent and not normal. Everything changed in a flash when I got pregnant.
When I first learned that we would have a child, I began to really need the support of my husband. For me it was very important. He knew everything that was happening to me – physical sensations and changes, moral experiences and reflections.
In our city there were no maternity hospitals in which joint deliveries were allowed. Everywhere they asked for a decent amount of money, which we could not just take out and put on the table. But I did not despair, I continued to read the experience of mothers who had already given birth, who had a joint birth with her husband. She was worried how my impressionable would cope with such an emotional load.
As time went on and closer to 30 weeks of pregnancy. A new regional perinatal center was opened in our city, in which joint deliveries are absolutely free. For some reason, the reviews about the unfinished work of a new maternity hospital and a well-coordinated team did not frighten me.
We went there to take my exchange card for signature and said that we would give birth together. The head of the department dictated a list of clothes that would be necessary for her husband during childbirth. There was a little more than a month before the day of X.
How did we prepare for joint delivery?
To prepare for such an event, there are special courses that teach breathing during labor, show future fathers how to do a relaxing waist massage to his wife, to relieve tension during labor.
Unfortunately, we could not get to such courses, so we prepared ourselves. We studied together how to breathe properly at different stages of labor. Read how to do a massage. Fortunately, in our time, all materials are available on the Internet. I additionally watched the video, my husband did not show that he was not afraid ahead of time.
When the time came, we packed up and went to the hospital. In the clan block, they were alone and waited long enough for the period of fights to pass. At first it was not hard, I went and even smiled. Now it sounds funny. And when the contractions intensified, I can't imagine what I would do without my husband.
I was often connected to the CTG apparatus and I had to lie down. And I was just unbearable to lie. My mother gave me a massage, distracted me as he could, ran for midwives, who for some reason were in no hurry at all. In the period of attempts he departed, as we agreed in advance that he would not look into the mouth of the volcano. When our baby was born, after applying to her chest, she was swaddled and given to her young father.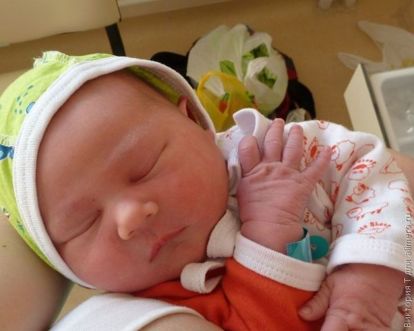 I think that such a first acquaintance is a must. Father needs to attend childbirth in order to fully understand how difficult it is to support his spouse and help in every possible way so that the child does not turn out to be a crying baby who appeared in the house.