I always wanted to have two children. On this occasion, many have told me, they say, give birth to the first – then you change your mind. And no. A few months after the first birth, my husband and I began seriously talking about not being against the second pregnancy. It was a balanced and deliberate decision.

Good memories
The impression of the first birth and pregnancy, I still have absolutely normal. All nine months I was leaving well. She was morally and physically ready for childbirth, so they, too, passed easily, though not quickly. Has given birth to itself, the husband who is present on childbirth very helped.
And our reward is a little daughter! Despite the experience of older friends, whose children were already much older, despite all the horror stories about sleepless nights and always screaming children – everything was just wonderful.
At night, the child was asleep, he was awake during the day. We did not see the promised horrors. Well, there was a cry, there were colic, but everything in moderation. Nothing that can not be experienced.

Second pregnancy
When my daughter was a year and a month, I got pregnant the second time. And, despite the fact that the pregnancy was desired, I was seized by some completely sad emotions. It became wildly scary.
Given that I myself could not explain what I fear. I wanted to cry and jump to the ceiling for joy, fun and sadness. Storm of emotions! The fact that I became pregnant the second time, my husband and I decided not to extend too much.
Only the people closest to us knew, and I want to say the reaction was not particularly joyful on their part. What do you think you are? Look at who you look like, so tortured, where else do you have a second child ?, Oh, and did you plan or by chance? …
I did not pay attention to criticism and bewilderment. People they are, just give them a reason to talk. If you respond to every word – health is not enough.

Joyful sensations
Time passed, conversations subsided, my tummy grew, and I already felt that the baby was pushing. By the way, in physical terms, the second pregnancy is much easier.
First, you already know more. Secondly, if during the first pregnancy time flowed slowly, then it just flew! Weeks are like days. I even constantly forgot what my term was.
Communicating with doctors was much easier – my attitude to me was like an experienced fighter. Yes, and I, in turn, did not fall asleep with their questions, as it was in the first pregnancy.

Solid pluses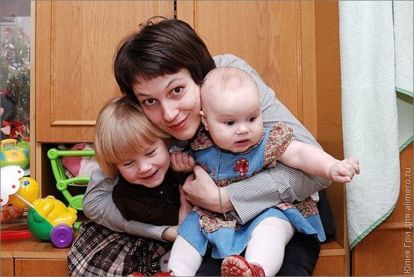 Nine months went by like one. The birth was very fast and much easier. In the emergency room, the midwife on duty did not even have time to fill out the card until the end, so everything quickly happened. And now – the second daughter!
Two children are a great joy! As for the small difference in age, for example, it was only easier for me. In memory, everything is fresh, savings in terms of the cost of clothing, strollers, toys, clothing – most of these things are preserved from the eldest daughter.
Summing up, I can say that, despite some difficulties, there are still a lot more positive moments. A Japanese proverb says that happiness comes to a house where laughter is heard. And where there is twice as much laughter, there is more happiness too!