Every future mother is waiting and worried before each ultrasound, because this is a rare opportunity to look at the baby, and also make sure that everything is good with him. Now there is an opportunity to consider the future child in all details in the three-dimensional image, and how can she not use it?
I watched my eldest daughter in 3d three times – at 12, 22 and 32 weeks. By the way, it is only in Russia that the amount of ultrasound is clearly fixed, and excessive exposure is considered harmful. In other countries, ultrasound is done at every doctor's appointment.
Three-dimensional ultrasound is quite a costly pleasure, although it brings a lot of positive emotions. You see your baby, albeit a bit like a jellyfish, but still more reminiscent of a real baby, and the picture is not much clearer than what happens on an ordinary ultrasound.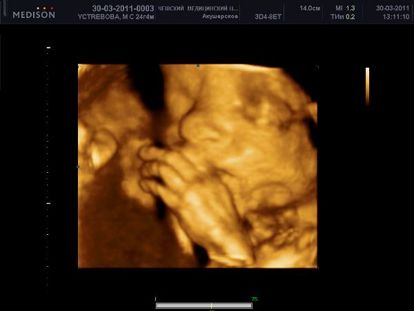 You see how the baby moves, sucks his finger, you can try to conclude what he looks like, whose nose, and whose lips. Gender in 3d is also very clearly visible, and at your request they will even make you a close-up photo of this affiliation itself.
Well, or not accessories, you can choose any angle, in general, everything is for people.
Writing to disk will allow you to repeatedly please watch all relatives, friends, neighbors, and just random acquaintances, when you will be bursting with the desire to boast of their one and only miracle.
Although I myself did not even open all three disks, and eventually lost everything. But I am a bad example, because in the end I came to the conclusion that spending money was stupid, it would be born – I'd seen enough, and the second pregnancy went to the usual free ultrasound at the clinic.
After all, all measurements are carried out by a specialist in a two-dimensional format, and the 3d mode is included at the end as an entertaining for parents. Well, it's up to you to decide, of course, and it's very, very nice to look at the baby in a realistic colorful image.