Pregnancy. Only this word gives me goosebumps. And what to say when I see the tummy. This is the most beautiful thing that can happen to a woman. The state of the future mom is beyond words, you need to feel it. But I will try to still describe my story of the appearance and expectations of our baby.
My name is Vika. I was then 23 years old and I worked as a secretary, and my husband Maxim was 28 and he was a taxi driver. At that time we lived together for 2.5 years, led a very active lifestyle. About the wedding and the children thought, but a little later. It would be desirable, but were not ready, probably. And yet, someone did not even think to ask us!
Two strips, but we do not believe
Once I was sitting at a friend's house and I so wanted a watermelon with horseradish! But then I did not pay attention to it and forgot, and after a week, I had a delay. Since the cycle is large, it was already well received. I was scared. She asked Maxim, but he assured that nothing like this could be. Believe it, but the test bought.
I didn't want to get lost in speculation for a long time, so I did the test right at work … I wanted to cry, I don't know why, from happiness or from shock – because the test was positive. In the evening, as always, I went to my mom for the weekend, but I did not say anything to my husband. Only when I came to myself and came back, I showed him the result of his confidence. But he did not believe, said he did not believe them. An ultrasound on my birthday confirmed everything.
It turned out that it was a gift for my 23 anniversary. We told the parents on the holiday. Who was in shock, and who started thinking about the wedding right away, but we didn't care, we were so happy, we didn't want to share it with anyone and hid from the rest to the last. The tummy grew early, could not hide for a long time.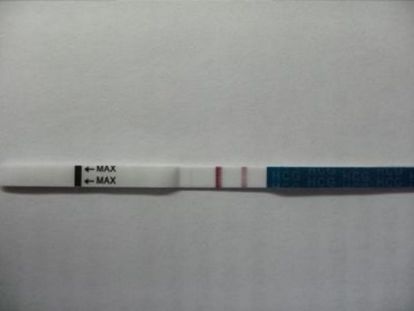 Health
All my life I believed that pregnancy and toxicosis are two integral parts. What was my surprise that I did not have it. For all 9 months I have never been sick. I was not attracted to some products. There were no tantrums on the hormonal background. I did not force my husband to look for a watermelon in winter. He was ready for me to walk like an elephant for 3 years. Dreamer.
True, the nuances were. There was a period when the sand came out of my kidneys. Well, thanks to one doctor, it went without consequences.
But most of all I was frightened by the screening analysis, it showed abnormalities in the baby, and later it turned out that it was a mistake. With the help of my doctor, I immediately calmed down and we re-passed. Everything is better than you can imagine.
Fanaticism
As soon as I saw two strips on the test, I became a fanatic of my pregnancy and baby. I absorbed tons of information about my condition, I had a program on the computer about the term and development of the child, which changed dates and pictures every day. And I became an active blogger in a popular forum for moms.
My little sun in the tummy was surrounded by so much love and caress that it seemed to be just the ideal of dreams. I was sent on maternity leave early, and I was also given a vacation. And from the 6th month I began to rustle the Internet even more. I knew everything that could fit my brain about everything that concerned me and my son, and this is now bearing fruit.
And there are no rings on the finger yet
With my mother-in-law I was, to put it mildly, in not very friendly relations. As soon as she found out about my pregnancy, she immediately decided what dress I would have, in which dining room the wedding would be, what cooks and who would sing there. She got me so that I refused such a holiday. But at the end of the term hormones gave their own, probably. I wanted the son and I to be in the name of my husband.
We filed the application at 34 weeks. The husband wanted exactly the wedding, and not just the painting. We galloped it in 14 days. But I had such a condition that I was more alive than all the guests combined. Our toddler behaved just fine. The tum was then 36 weeks old. As a pregnant bride, I looked just gorgeous and so liked the groom and myself.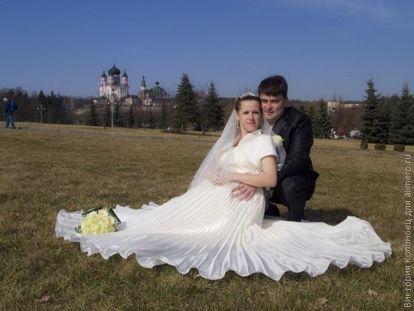 Preparing for the meeting
I think no pregnancy is perfect, everyone has nuances. We are no exception, but nothing serious. They did not pay attention to the signs and began to buy for the baby still at 7 months. Stroller, cot, mobile, clothing – all that was only necessary in our opinion. Not transferable feeling when it is chosen with a husband for our son.
But we were preparing not only shopping. I actively read about childbirth, went to classes for expectant mothers, prepared for breastfeeding (in the future this saved me). And, of course, she told all this to her husband and prepared him for it. Waiting for the baby brought us very close, this is a state of complete euphoria, and so we wanted it not to end.
We had one unfinished business. I struggled for a long time with my husband so that he would nevertheless deliver a window in our room. It was not even secured, and it had a strong blow from it, since it was already warm, but I did not want to live with a child like that. On the day when he put it, I joked: Until you put the window – I will not give birth. It was April 30th.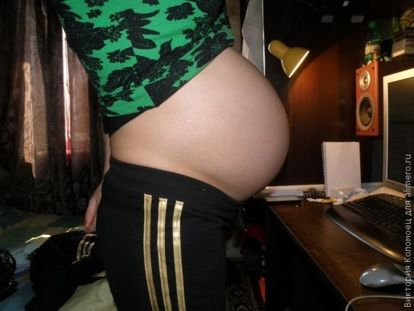 During the day, my stomach dropped right in front of my eyes. I felt great, so I did not pay attention to all this. At 22-00, I started having contractions. Soon their strength only increased, we went to the hospital. At 3:30 am on the night of May 1, as our father asked, our Daniel was born, but this is another story, called Our Sweet Danny.
P.S. I enjoyed my pregnancy and was happy at that time. I gave birth to a son and immediately said that I wanted a daughter, and my husband before the maternity hospital at night wrote candles. At this moment you experience motherly happiness and every woman deserves it. Health to you and your children!