It was so exciting, extraordinary, healthy, scary … You can pick up a sea of ​​epithets to the process of the birth of a child, and especially if with all this the husband is present. My story began with the fact that I became pregnant with my daughter and decided for sure that my faithful would be near during all the births. Well, why should I suffer alone? Let him observe and help!
I gave birth twice, and both times my husband was from beginning to end. Before the birth of my daughter, I was worried more, since this is my first child. When the waters broke at 3 am, my heart began to pound wildly …
Start of my workday
We arrived at the hospital around 4 am on 1 May. Contractions were quite weak and barely noticeable. Even then, I thought: And who said that giving birth is painful? Well, think about it, pulls the stomach like on monthly, and only. Oh, how wrong I was then! Later, when I was sitting in a crooked pose on fitball, my thoughts were somewhere on the verge between killing a doctor or a husband (I wanted to find someone to blame!) And dreams that it all turned out to be a dream.
Husband walked around the bush, asked how to help me. To help? Yes, just make it so that I did not hurt so much, but generally give birth to yourself! I lost consciousness, could not walk, drink or even think. Thoughts were confused, I wanted to sleep and see the baby as soon as possible. She still did not go to me.
Hooray! The process has begun!
When the little hand of the clock stopped for an instant opposite the number 10, the thought flashed in my head that it would never end. The doctor constantly checked the baby's heartbeat, forcing me to stand up and lift my chemise. My husband hastily waited and supported me as best he could. And I … I thought about not craping myself in front of him, as she started to hurt. Well, I'm a girl after all, and girls are popping with flowers!
Oh Gods! This is an incomparable feeling when you feel the pressure force on the perineum, and at the same time the pelvic bones expand. There, it becomes all the same as in what places it flies from you 🙂 A whole council gathered around me, as it seemed to me then. Someone is holding his knees, the doctor presses on his stomach, the husband holds his hair and whispers something in his ear.
Think of a child !, Come on, gather strength! You can, come to your senses! – shouted from everywhere. And I gathered the last strength. I can. For my daughter.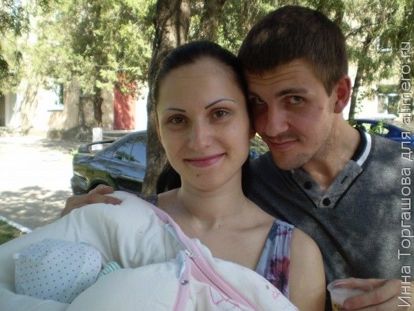 Looking at the little sniffing creature, more like a baby doll or an alien, I struggled with conflicting feelings. Am i a mother This is my child? I'm not pregnant already? Was she in my stomach? In general, I was getting used to the new role, and my favorite was near, and I was the happiest in the world.
If it were not for her husband, then everything that happens would be filled with a completely different meaning. I loved him so much at that moment … He was there, worried with me every minute and, most importantly, he saw how our daughter was born. I didn't care that it wasn't as aesthetically pleasing as I would have liked, but still, it was beautiful.
That is why the second time we went to the hospital together for the son. But that's another story.