Young mommies. Yesterday's schoolgirls themselves are almost still children. Puzzled, confused, yearning for freedom from obligations. I, frankly, are very sorry for such girls with babies.
Someone gave birth to fly, someone decided that the children's money can be a comfortable life for a couple of years, and there are those who tried to keep a man with pregnancy. There are, of course, those lucky women who gave birth to a child for his own sake, and such young women, as a rule, everything in life goes smoothly and well. It is a pity that there are very few.
Frank talk time
One of these happy young mummies is my husband's niece, Annushka. She is 21 years old, and she already has two sons and a darling daughter. She gave birth to her elder child at 16, three years ago the second son was born, and 9 months ago, her life with her husband was adorned by her little daughter.
Recently they came to visit us (on this day my daughter turned 14 years old), and we had plenty of games with the little one. My daughter did not let my daughter down, fed me porridge and sang songs to her, and when the guests went home, she even got sad.
That same evening, my daughter took me by surprise with an unexpected question.
What would you say, she asked, if I had given birth at 15? Would make an abortion ?.
What are you, – I was taken aback, – do not even think about such a nightmare. I would persuade you to give birth, because children are always happy, but how happy can you refuse!?.
Then we talked for a long time on this topic, I understood that my little bloodgirl was not yet completely ready for motherhood, and the game with the tribe simply inspired her to think about her future kids.
So word for word, we raised the topic of intimate relationships among teenagers. I was surprised to learn that a third of the daughter classmates have long met with guys much older than themselves, and most of them are no longer girls.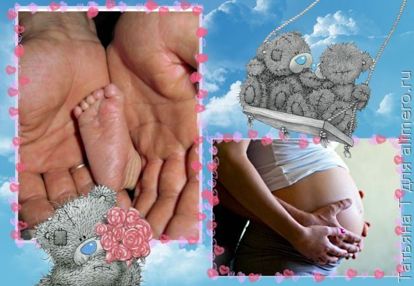 And when is it time?

You're just afraid to become a grandmother, – smiled the cheek-bell, – and here you are dissuading me.
What can you say? I agree – scary. But even more I am afraid that having plunged into adulthood early on, my daughter will hate life, the role of wife and mother. And then I told a little about what it means to become a mother early.
– At night, at the first call, get up to the child, even if very tired during the day.
"Knowing that contemporaries are going to a disco or a club, quietly cook porridge for the little one and clean up the consequences of children's fun for the hundredth time a day."
– Without the slightest doubt, deny yourself sweets for the benefit of the child.
– To exchange a cheerful student life for correspondence courses and cramming abstracts at night while the child is fast asleep.
– All night long on duty at the cot, if the teeth are painfully torn or tortured colic.
– Without regret to miss the most interesting series of your favorite series, if the child wants to play on the street.
And further, further, further …
After listening to my revelations, my daughter sighed and admitted that she really was too early to think about the kids. And I hope that babies will appear with her when she is ready for it.
And how do you feel about early pregnancy?