I have already written about Alimero about the severe headaches that torment me almost the entire first trimester of pregnancy. In today's topic we will focus on the non-drug method of dealing with headaches. Namely, with the help of massages.
The fact is that it is categorically contraindicated for pregnant women to massage the entire back, as there is a threat of a pregnancy failure. But what to do if the headaches do not pass and there is no strength to endure?
Indications for massage
When I visited a neurologist, I told him that I suffered from severe headaches almost every day. After examining me, he decided to – massage the neck area due to osteochondrosis. The doctor did not give me any pills and I went to sign up for a massage at the clinic in the community.
Massage the neck area can be done during pregnancy, as a specialist works only in the upper back (neck, shoulders).
Nothing else remained, as the pain was unbearable. I went to the manager, and she gave me a referral for a massage voucher to pay at the cashier. By the way, the price is quite ridiculous: for 10 sessions of massages I had to pay only 512 rubles. (170 UAH.)
If to compare with the prices in private clinics, the cost in this clinic is just scanty.
How is the procedure
The masseur was a middle-aged man. He scolded me for not having prepared my back before pregnancy. Not always ready for this, you know 🙂 And in general, in order to avoid back problems, it is necessary to do elementary exercises every day.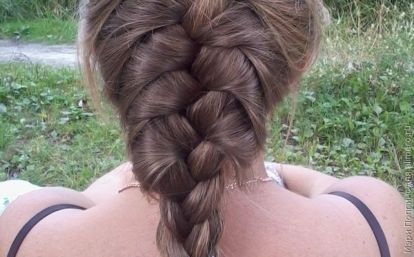 Massage lasts 15-20 minutes. It is done sitting on a chair. I leaned on my elbows, my head lay on my hands in the forehead. By the way, the massage therapist advised not to use any children's oils during the massage. It is much better to use good quality olive oil.
I was on the massage only 3 times and felt the effect almost immediately after the first session. I hope that the massage of the collar area will help me, since it is absolutely impossible to endure severe headaches during pregnancy. How easy and good it became without headaches!