My labor activity began traditionally – at about 9 pm on December 13, 2014, my amniotic fluid began to flow. Plus the bouts were regular, and the interval between them was about 7 minutes.
Start

My husband and I arrived at the maternity hospital around 12 at night. We had paid for the partnership childbirth with him, so we did not part with the receptionist. I went to make out, and he remained to wait until he was called to the ward. Since at that time I wanted to give birth to one of those who wanted to give birth, the reception and design were very fast. I did all the necessary procedures and was taken to the ward.
I gave birth under a paid program and I had a separate maternity unit plus a separate ward with a joint stay. First I was escorted to the maternity ward and a little later my husband.
Waiting with my husband

We stayed in the delivery room for about an hour, then a nurse came in and took me to the doctor on duty. She looked at me and said that the disclosure is not yet large and there is a whole bubble. She punctured him and sent me back. It was about two in the morning. After puncture of the bladder, contractions increased significantly. Became tangible.
My husband entertained me in every way, we played games on the tablet. He was massaging my lower back, supporting me when contractions were becoming more frequent and more and more painful. At about six in the morning I was again taken for a visit to the doctor. She said that the disclosure of only 3.5 centimeters and before two days, I do not exactly face.
Contractions

At eight o'clock in the morning my husband went to work. Unfortunately, he only worked for the fourth day in a new place, and it was impossible for him to take time off. And I went to the shower. The contractions became practically unbearable, and I spent the rest of the time sitting in the shower, directing a stream of hot water to the lower back to reduce pain. It helped very well. I even somehow managed to sleep a bit with fits and starts between contractions. In the breaks I did KGT.
Somewhere around 10 o'clock in the morning I realized that now everything would begin, and called the midwife. She looked at me and said she needed to prepare. I was put on a special couch and began to prepare it for childbirth. She began to collect as a transformer in front of me. Handles appeared from somewhere to rest on them. But a metal crossbar, which was installed above the bed perpendicular to it, plunged me into a state of shock. I was told that it would be necessary to put my legs on her and, leaning against her, to push. This I saw for the first time in my life! In films give birth in a different way!
Our daughter is with us!

Then everything went very quickly. They explained to me how to push, but my daughter was large for me and I couldn't push her out. The midwife told me that if I didn't give birth to her for the next fight, I would be cut, I was scared … and at 10.40 on 14 December I gave birth)
When Sabrina cried for the first time, I, too, burst into tears. While she was wiped, measured and weighed, the midwife sewed me up (I had a small gap inside). Again the doctor came in, looked whether everything was normal, she was very surprised that I had given birth quickly.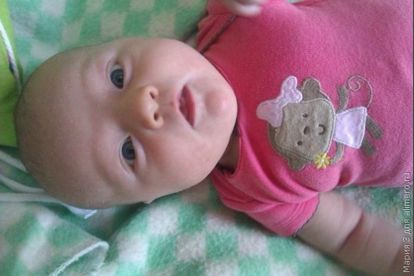 When I was given my baby, it was an incredible feeling. True, she was so funny, small, swollen and with eyes like that of a Chinese. My husband's great-grandfather is Chinese and I was afraid that these genes might affect their daughter. But everything worked out.
Then we were taken to the ward, and we fell asleep with her. And in the evening our dad came to us. Here is my story.