Scientists have long proved that during a child's stay in the mother's stomach, not only physical development, but also mental development takes place. It is not strange, but the stronger the future mother is confident in the abilities of her child, the smarter, more talented and calmer he will grow.
Early development

It was difficult for my spouse to communicate with the puzozhitel, he said that it looked strange and when the son was born, he would have time to play and talk with him, but for now this mission is on me.
For some reason I intuitively felt that it was important to establish communication with the child before birth, and after reading a lot of information about perinatal upbringing, I learned a lot of interesting things.
The kid remembers and absorbs all the sensations that his mother is experiencing.
For example, if, in a stressful situation, a pregnant woman becomes hysterical and starts to beat the dishes, the child, in addition to being shocked and scared, will remember all these actions, and, in a similar situation, will also react.
Develop hidden talents and a sense of beauty.
Being in the mother's belly, the baby reacts sensitively to the music. Basically, preference is given to calm classical music, children's songs or melodic modern compositions, he will also greatly appreciate your singing, my mother's voice for the child is the most favorite sound.
Harsh, noisy sounds can frighten him and create a feeling of discomfort, he can begin to push, thereby expressing his displeasure.
The familiar melody has a calming effect on the baby, and he can fall asleep under it.
I decided to conduct an experiment, starting from the middle of the second trimester, every evening included Mozart, namely a song called Music of Angels.
I am not a music lover and from the entire playlist I liked this tune more than anyone. Besides the fact that this music relaxed us, it also acted as a sleeping pill, at least for me.
After the birth all sorts of troubles began and I successfully forgot about the continuation of my experiment.
Once I had to leave on business for several hours, opening the door of the apartment, I heard familiar sounds and, frankly, was surprised that the child, who had to be rocked for hours on his hands, fell asleep in his bed to the music.
It turns out that the young daddy, having tried all the ways to calm the screaming baby, turned on our music. So I consider the experiment a success. By the way, this composition still causes wild delight in my son!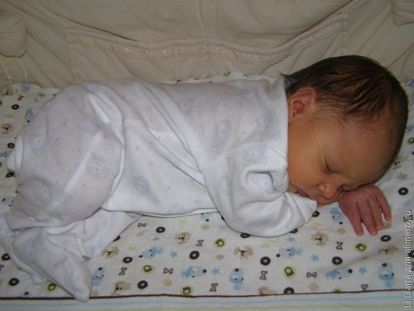 Be in touch
Communicate with your not yet born baby. Waking up – wish him a good morning, going to bed – good night, if you feel a push, stroke this place, say something affectionate, let your behavior make him understand that he is not alone, he is already loved and waited.
The little man perfectly feels any touch. He can be knocked in turn with him, with time he will learn to react to the number of touches with the corresponding number of jolts. We managed once to count to three, but more often to two.
Imagine your baby as if he has already appeared, communicate with him on a mental level, visualize and one day you will be surprised to realize that the child is exactly as you imagined him.
My mother asked me 'You might think that he was born so?'. It may seem strange, but I really represented him.
I found on the Internet photos of babies that I liked, put them on the desktop screensaver, every 15 minutes the photo changed, a new tot appeared, thus I constantly admired beautiful children.
I thought about what kind of character he had, what features I would like to see in him, and so on … I can say that at least 60% of what I was guessing coincided … And then we will see …