Recently, I realized that many things that happened to me during pregnancy began to fade from memory. But here's how to wear a bandage correctly, I still remember. Both in the first and in the second pregnancy I began to put on a bandage early and then went in it up to the birth. He helped me a lot, I felt comfortable in him.
Naturally, before pregnancy, few of the girls know what a bandage is. A bandage is such a tape (different models are sold) that supports your tummy (but does not squeeze it) and fixes the correct position of the baby in the uterine cavity.
I heard that some of my friends could not adapt to it, but I had no problems. I moved with him easily and freely, my back was less tired. And they say that if you wear a bandage, but the likelihood of stretch marks on the skin is reduced.
Time to put on a bandage
I first met the bandage on the 4th month of pregnancy. Before that, the tummy was still small, but during this period it began to increase, and in the second pregnancy a strong tone was added. By the way, by the end of the second pregnancy I couldn't move at all without adaptation, since the uterus came to tone. But in the bandage everything was in order.
You can wear a bandage until the moment of delivery. If you don it correctly, do not be afraid to give something to your baby.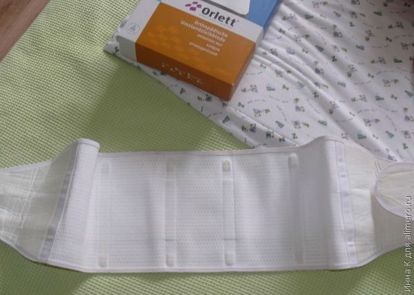 When I went to the store for a bandage, it turned out that there were several models. There are narrow ribbons, combined with the knitted part, which is pulled on the stomach. I tried it on, but I didn't like it terribly. There are those who are immediately sewn to the panties. In my opinion, also inappropriate model. I stopped at a wide ribbon, which fastened with velcro under the belly.
The size is easy to pick up, usually everything is indicated on the boxes with bandages, you only need to know your parameters. If you get a bandage in an orthopedic salon or a good pharmacy, then you will have the opportunity to estimate the tape on your tummy.
How to wear
During my first pregnancy, no one told me how to put the ribbon on correctly and I fastened it standing up. Then a more experienced friend explained that you need to act differently. You must lie on your back, push the tape under the waist. I had a velcro at the ends of the bandage, and I fastened it under my stomach. Here you need to find a position so that the tape does not press and at the same time, sit tight.
When you take a vertical position, you should not feel discomfort, and the stomach should not be constricted. At first, some unpleasant sensations may occur, you just need to get used to it, move the bandage up or down. After a couple of days you will find the right position of the device and stop noticing it, like any other piece of clothing.
I hope this information will be useful for future moms!
Did you wear a bandage during pregnancy?