During my pregnancy I gained 20 kilograms. My scales sadly showed the number 80. Every time I heard with horror the threatening indignations of my doctor. She scared me with the terrible consequences of my fullness. I tried not to eat much, drank kefir and ate stewed vegetables, but my weight was increasing.
Here came the happy moment of childbirth, which every woman remembers. The child is lying on his stomach, crying, finds a breast. I'm happy. For this it was worth and sacrifice a figure. After sleeping a few hours after giving birth, I still decided to slide out of bed and go to the mirror.
Yes … the sight in the mirror was not the best. The stomach was big, I looked like a tormented donut. Even then, I firmly decided that I would definitely put myself in order: my child should have a beautiful mommy.
Returning home, I measured all my clothes, which I wore before pregnancy. Alas! All the old things were small to me. The distance between the buttons and buttonholes was huge. I hung my favorite costume first. Nothing, the day will come when it will fit me.
Unsuccessful attempts to lose weight


At first, I studied all diets. I began to cook for myself separately cereals, vegetables, I studied the table of calories. But it was all a stupid idea. How can we count calories when there is no time even to sleep. My husband demanded a full menu for himself – fried meat with fried potatoes, so I had no time to cook something sort of diet for myself.
I tried not to eat after six. So I lasted ten days. I went to bed only at midnight, and at night I had to get up and feed the baby several times. I actually started to lose weight, but once having taken a course in the kitchen at night to prepare a mixture for the baby, I realized that I lacked strength and was dizzy. As a result, after six I started again: first of all, the child needs me now, healthy and not thin.
I realized that losing weight so quickly after giving birth (especially at my age of 30) will fail. We need to calm down and tune in a long way: the weight gained 9 months, then 9 months and we will lose weight.
Simple ways


How to lose weight, I suggested my baby. He lives under the regime, every three hours he needs to be fed. I also began to eat according to the regime. Having fed the baby, I ate myself every three hours in small portions. The volume of food was about a glass. Very soon, I got used to this norm, it was difficult just a few days.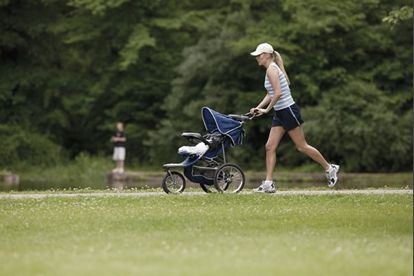 Well, of course, it would be sports. But nobody will let go the young mom in the gym. As it turned out, you still do not have to sit on the spot with a small child. And sports can be replaced by walking. With my son, we did several laps in the park with a stroller daily. We both liked it very much. They returned home cheerful and rested.
Weight began to leave unnoticed by itself, when I ceased to focus on diets, and ordered my diet and tried to move as much as possible.
Now I have a wonderful son: a small red-cheeked burly man with a charming smile. I lost weight. My favorite costume is on me now.