In the evenings my baby was sorely lacking in breast milk. There was a period when you had to feed the mixture. My mother and grandmother fed their children only for three months. I waited with horror that I would be the same.
In my plans, even before the birth of the child, there was breastfeeding for up to a year – one and a half. I did not want to give up, writing off everything on heredity. I asked my relatives how they fed their children that they ran out of milk so quickly. I listened attentively to every word, since I needed to identify all the errors and not repeat them.
Grandmother and mother did not feed their children at night. Totally. The children slept well and nobody woke them. Moms decided not to sacrifice their own sleep. As it seems to me, this is the main reason why the milk ran out when their babies were not even three months old. Correct me if it is not.
Grandma, like from a fairy tale
Once I came to visit a friend who began to ask me how I was doing. Then I said that I was fighting for milk. I tried all the methods: special teas for lactation, pills, nerves calming in the end. But nothing, absolutely nothing helped. By evening, the milk was over and that's it.
And then from nowhere, or rather, from the kitchen, her grandmother comes up to us: Na-ka daughter, drink my tea! Come home and fatten your hero !. Honestly, I always treat all products very scrupulously. And then I drank a half-liter mug in one gulp and did not even ask what the tea was from. In the evening, really milk was enough to feed the baby.
Is nursing mom and cow the same thing?
Early in the morning, after the next feeding, I flew to my friend asking for tea. As it turned out, dill water was the basis, ordinary tea was added to taste. A friend's grandmother explained that in the villages before, the cow would give more milk to the farmers to feed her with dill water. Well, how are people worse? Really.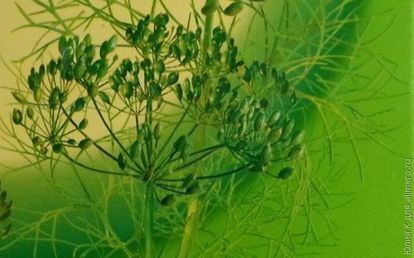 How to make dill water?
1. 2 tablespoons of dill seeds pour a glass of cold water.
2. Bring to a boil.
3. Insist 5-10 minutes.
4. Strain and dilute the resulting infusion to about 1.5 liters of boiled water of any temperature.
Drink these 1.5 liters should be throughout the day, plus about a liter of any other liquid. Whether to mix with anything else is your business. I did not, saw in pure form.
I drank such water for about a month without stopping. She literally saved us. From the very first day of drinking, the milk has noticeably increased, and every day it has increased. The time when you could stop drinking dill water came intuitively. I gradually began to slow down the dose, and the vito stopped drinking it altogether. About a month later, they refused to feed the mixture, remaining fully breastfed.
I do not claim that this method is universal and will help everyone, without exception. Still worth a try.