The news of my pregnancy was a long-awaited and joyful event in our family. That is why I started the assault on various literature on the topic of what I can do during pregnancy, and what should be discarded so as not to harm the baby. In addition to food, sleep, tests and loads, I was very interested in another question: can I continue to drive?
Opinions on this subject in various sources were opposite, but most were for driving all the same. However, to heighten peace of mind, I decided to consult with my doctor and, as it turned out, not in vain! After conducting various surveys, she let me in behind the wheel, but warned about possible problems.
I think they should be designated for other future moms.
The first situation when you absolutely can not get behind the wheel – is the threat of miscarriage or premature birth. Well, this is understandable, in this position it is better to lie down and not get up from the bed, and not to rush somewhere by car, being in a sitting position for a long time.
Next is toxicosis. Well, you see, what kind of driving is there, when you are terribly sick and swaying, but also dizzy and dark in the eyes? So it seems to me that only in an extreme situation would the future mom agree to go anywhere at all!
Anemia – in principle, the situation is the same as with toxicosis. All the same dizziness, general weakness until the loss of consciousness. Therefore, even initially you feel well, it is better to take into account the results of blood tests. And if hemoglobin is low, don't get behind the wheel! Unstable blood pressure strictly prohibits driving throughout pregnancy.
A large belly is just awkward. It was precisely because of this that I had to abandon the helm in the last months. Emotionally unstable state is a contraindicator. No, of course, situations on the road are different: you can get angry and upset, but to sob for every minor reason or to swear with all the drivers is clearly unnecessary, so it's better not to provoke yourself.
So is it possible to drive a car during pregnancy?
In principle, if you do not observe the above factors, then why not? I enjoyed driving up to 7 months, and then, when my tum was growing up and it became just uncomfortable for me to sit, steer, or reach for everything I needed, then I simply gave up the driver's position to my beloved husband and quietly traveled to the passenger seat.
Features of pregnant driving.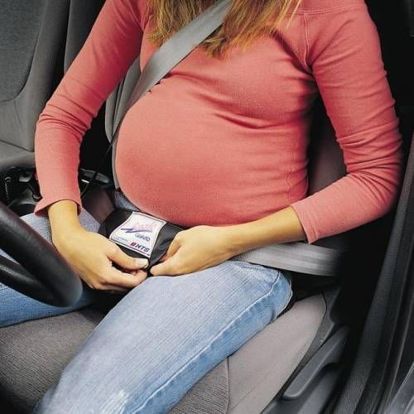 For my part, an experienced driver, I would like to note a couple of features that still need to be taken into account before getting behind the wheel, being in an interesting position.
I would not recommend driving the girls who just recently got behind the wheel or still feeling insecure on the road. The concentration of attention is still slightly reduced during pregnancy, so you need to be clearly confident that in an emergency you will not get lost.
It will not be superfluous if someone else is in the cabin while traveling with you.
About the condition of the car also should not be forgotten. It must be in good condition, equipped with working seat belts, etc.
Note that the distance between the tummy and the steering wheel should be about 10 cm. In this case, you will not press down anywhere on your tummy or damage it.
Going on the road, in addition to the necessary documents, throw honey in your purse. policy and exchange card – will not be superfluous.
I once bought and stuck on the rear window a pretty sign depicting a pregnant woman. And what, let all the drivers know who rides in the car! Maybe more attentive and more cultured.
Very important. If you are taking any drugs, be sure to read the instructions and make sure that they are compatible with driving.
That's probably all! I clearly observed everything that I wrote in my article, and now the smallest and most important passenger in my life goes by my side in a special car seat! But that's another story!