Eat another apple and another spoonful of soup! You need to eat for two! You need high-calorie food for the active development of the baby! – all these words are the orders of our loved ones and loved ones who are trying to actively feed the woman during pregnancy!


Disservice


And it seems that you don't want to eat, but you can't offend your mother-in-law with your refusal of borscht specially prepared for you. And do not give a reason for my mother to read another lecture about the need for full and constant nutrition, pushing the plate with oatmeal porridge. Well, and all the more you shouldn't contradict her husband's order to eat fruits and vegetables everywhere and constantly!
It turns out that in the period of special nine-month care from those around the pregnant girl, one has to eat for two, three, and even four.
Such a disservice by loving parents, husband, girlfriends, and other relatives may adversely affect the health of mom and baby.
Normal performance in weight gain
Obstetricians and gynecologists say that on average, a pregnant woman should recover by ten, maximum twelve kilograms for the entire time of the child bearing. And this is the norm.
During the period of my first pregnancy, I met these indicators, gained about 9-10 kilograms to my usual weight, but during the second pregnancy I exceeded all my plans and recovered as much as seventeen kilograms!
In this regard, I suffered from constant dyspnea, abrupt jumps in blood pressure, and I also had constant tachycardia, my legs, hands and eyes swam from the strongest edema.
For the most part, this happened because I gave myself at some moment to relax and eat for both cheeks everything that was kindly given to me from the hands of people around me. In the last trimester of the second pregnancy, I on average recovered in two weeks by one kilogram of eight hundred grams, instead of the prescribed six hundred grams!
In this case, I do not soot that I lay up the belly on the couch. No, I walked for several hours a day with my eldest daughter, cooked, cleaned, even weeding the beds from the weeds of my mother at the dacha, in general, led quite active lifestyles.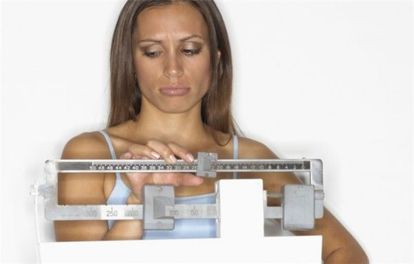 The gynecologist was going to put me in the hospital, but then I suggested that alternatively, I would seize the feeling of hunger with apples, kiwi and pears, but not in any way with oranges, tangerines, tomatoes, because they are very allergic. Meat, vegetables and vegetable fats were recommended to me to leave in the daily diet in small quantities.
Before the birth I managed to lose two and a half kilograms and no more. And to be honest, I still cannot return to my normal state, no matter what I do. I eat right and twist hulahup. Of course, I got rid of most of the hated extra pounds, but I never reached my weight category.
Therefore, girls, women, if you want to look beautiful and attractive and after the birth of a baby, then find the strength to not recover during pregnancy over normal indicators, because most often it comes from normal overeating!