I can not say that I have a tendency to be overweight. But due to the fact that I have tall stature, the slightest fullness seems to me obvious to others. Roughly speaking, I look like a big horse.
I know what I'm talking about, because at one time my weight was more than 65kg, which immediately reflected on my cheeks, stomach, bottom and chest. Shortly before the pregnancy, I still managed to lose weight up to 55kg, which I was incredibly happy about. Remembering how hard it is to part with extra pounds, I firmly decided that pregnancy is not a reason to return to the category of well-fed.
In following to this goal, a few rules helped me. I hope my experience will be useful for future mothers!
Do not eat for two
This stereotype is long overdue to cross out with a bold line and distribute leaflets with the appropriate message to all pregnant and lactating women. The child does not need calories, fats and carbohydrates, but vitamins and minerals that are abundantly contained in low-calorie foods.
I do not argue, during this beautiful state often you want to relax and allow yourself something that the hand has never raised before. But do not forget that for every kilogram thrown will have to fight.
That is why I continued to eat as usual, paying more attention to fresh vegetables and fruits.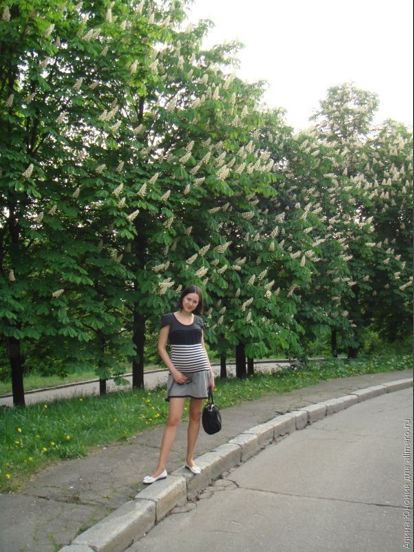 By the way, a few months ago, my girlfriend, who lives in the United States, gave birth to a second child. And even where the temptation in terms of products is much more, she managed to add only 10kg, which was almost a miracle for her American friends.
Active lifestyle
Lack of difficulties gave me the opportunity to continue to live an active lifestyle, and the transition from high to high heels increased the amount of walking.
Yes, I worked in the office for 8 out of 9 months, but I never allowed myself to sit from 9 to 18, constantly found an excuse to leave, sometimes even of my own free will perform courier duties.
If the weather allowed me (no cold and ice), I preferred to walk a few stops on foot instead of standing or sitting in transport. Yes, and for testing, I got up earlier to walk to the hospital in the early morning.
Of course, nothing personal, but my biggest nightmare was a denim jumpsuit for pregnant women. I do not argue, perhaps he is comfortable, but only open sandals with a nylon sock can be ugly than him.
And while I was still in a sober mind, that is, in the early stages of pregnancy, I took an oath from my husband that he would not buy me a denim jumpsuit for any reason. In the end, the only clothes for the ladies in the position I had a narrow skirt, which became the ideal option for the office.
I bought the rest of the clothes in regular stores for ordinary women, paying attention to the high-waisted styles and fashionable at the time short, but loose-fitting dresses.
Natural frugality did not allow me to buy something that I could not wear in a few months. That is why I had an incentive to keep myself at a low weight. By the way, in the photo I am in a dress that fit me at 7-8 months of pregnancy.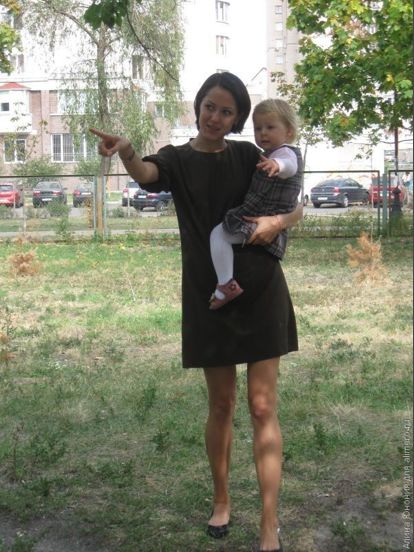 As you can see, there is nothing complicated. Perhaps I was lucky, but I absolutely do not understand the feeling when, if I don't eat a bucket of cakes, I'll go crazy. Maybe the fact is that I almost always can soberly assess the situation and its consequences, I don't know.
As a result, for 9 months of pregnancy, my gain was 8kg, half of which I left in the hospital, and I am engaged in raising the second half at the moment. During the discharge, I was wearing 36-size favorite denim mini-shorts, which I am extremely happy about;)
And you managed not to gain a lot of weight during pregnancy?