Three years ago, in our family, the long-awaited completion finally took place. I gave birth to a beautiful daughter. However, during the pregnancy, I gained a few extra pounds. After giving birth, I still have 6 unnecessary kilos. And I wanted to get back to my weight and to my favorite clothes!
The first time I had no time to deal with myself. But as soon as I introduced the lure, I decided to take care of myself.
I had the sense not to go on a diet. I decided to choose the right diet. Those who have given birth, they know that it is quite difficult to return to normal eating behavior after pregnancy. I went almost half a year to this.
I started eating healthy food again – dairy products, liver, vegetables, fruits, seafood, lean meat and fish. I also reduced my portions in half. Now I and my daughter are no longer one organism, so I stopped eating for two.
I began to walk more often. I went out for a walk with my daughter and could return in 3-4 hours. Especially on warm sunny days. My daughter received a good portion of fresh air, new emotions and impressions, and I received physical exertion.
By the way, after such walks from me, on the contrary, a wave of energy always rises. Not only do I not get tired, but when I come home I can do a lot of household chores. And how many calories I burned this way!
Charging for me and for my daughter
During the examination in six months, the neuropathologist prescribed us to do certain exercises with the child. I put my daughter on the sofa – lying down, took her hands, put her in a sitting position, then lifted her to a standing position. And then did the same thing, only in reverse order.
And I also liked to carry my daughter in a kangaroo. And I changed positions – from front to back. So I formed a good posture.
When my daughter began to learn to crawl, I crawled along with her. I copied her movements. My daughter liked to play with me like that. And I noticed that the skin on my stomach began to tighten, and the hips and buttocks became more elastic. Here we had this charge for two!
I also noticed that the right mental attitude helps me in getting rid of the hated kilograms. The first month was difficult for me to return to proper nutrition. I now and again seized a bad mood with chocolates. And then somehow I decided to buy pears and nectarines instead of them. So I replaced the high-calorie product with a useful one, but also the mood was always good.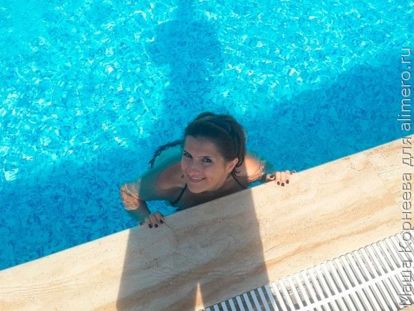 And after six months of such manipulations, I noticed that my extra pounds disappeared, I returned to my weight before pregnancy. And the habit of eating properly developed. So far, I'm in great shape!
And how did you clean up after giving birth? What helped you lose weight?