I learned about my pregnancy in a very unusual way. The fact is that she was a complete surprise to me, I'm not talking about my husband, who was shocked by this news. We planned to have children of the year in two. It happened very soon.
After an interview for a physical
After the wedding, I moved to live with my husband. I had to look for work in a new area in order to be closer to home.
I interviewed one of my chosen organizations. However, in order to work in it, it was necessary for me to issue a sanitary book. And although I do not like clinics and doctors, but I went to the physical.
From my youth I remember the physical at school. Brrr! Already goosebumps from the fact that you are forced to undress, you are considered, probed. But in order to get a job, I made the sacrifice.
Conversations with the gynecologist
The gynecologist in the clinic examined me quickly enough. Although at the usual examination, it seems to me that it lasts for ages. While I was dressing behind a screen, the doctor made herself some notes. And then she started the conversation.
I did not like the way the gynecologist began to talk about my future work. She said that I need to think again before making a decision. That there is some harm in the enterprise and everything in this spirit.
I really did not understand – she discourages me, warns or what happens at all. Apparently, the doctor understood my confusion in silence and wide-open eyes. Then she said what I least expected at that moment. She said that it was undesirable to work for this organization in my pregnancy.
I was shocked by her words. I began to deny everything. She said that she was wrong, that I am not pregnant, that my husband and I are protected and do not plan a child.
However, the doctor only smiled and shook her head. She said that if we were protected, then a miracle happened. She began to explain that this happens when fertilization occurs, bypassing the protective barrier.
The main thing is that the husband withstood the news
I went and thought about how to inform my husband about this. I understood that he would be glad that once this had happened, you would not change anything, but, honestly, I was afraid to tell him.
I came home late. I wandered around the square and picked up words. When my husband met me at the door, I couldn't say anything at all. At first, my lips trembled treacherously, and then I burst into tears. At this point, I remembered that in pregnant women it happens.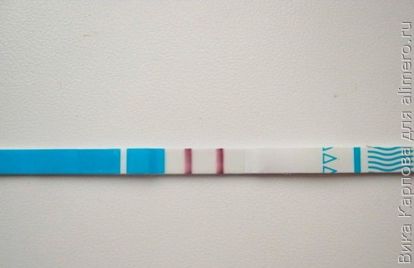 And here I, instead of the monologue that I prepared during the walk, honestly said: This happens to pregnant women. My husband asked again, and then said that this was the happiest day of his life.
That's how I went to issue a sanitary book! I still remember my feelings at the gynecologist!
And how did you know that you are expecting a child? What were your emotions then?