It so happened that I did not get the easiest character, the main feature of which is impatience. What can we say about such an important matter as the birth of a child, of course, I wanted to bring it closer as soon as possible!
Well, the insanity did not reach, but, starting from 38 weeks, I was both times ready to give birth as a pioneer at any moment. And if for the first time I was lucky to give birth at 39 weeks, I waited a son for a long time – almost 41 weeks.
When the most important day came – the Day of Prospective Clans, I was already climbing the wall of despair – I was worried about the baby, and I was burning with impatience. Everything that her friends, doctors and the Internet have advised has been tried.
Physical activity.


Wash the floors – daily. To walk upstairs – go out at night, so as not to shock anyone, to the staircase and go down and up from the 4th floor and back. She actively walked with her daughter, in general she walked a lot, but all these attempts ended only with training bouts.
Physical intervention.


Sorry for the details, but this is an enema or laxative. I will not continue, just say – it did not help. Marital debt, which can also be considered a physical intervention, also had no effect. Stimulation of the nipples – by.
Intimate talk.


Adjusting the belly, led long conversations with the baby, the meaning of which was reduced to one – get out already. The kid did not obey.
And so I tried everything, at 40 weeks it was time to go to the pathology of the maternity hospital, to wait there for the birth of the child, or to stimulate the birth by medical means.
I was lucky, it did not come to the puncture of the bubble and stimulation through the dropper, they say it hurts terribly. I was helped by the first of the three planned turundas, soaked in medicine that stimulates the onset of labor.
3 hours after the start of labor, I became a mother for the second time, my son was also impatient. I can say that I did not worry in vain, then they told me that there was meconium in the waters, and I myself saw that the child was peeling off all – the consequences of the passage of time.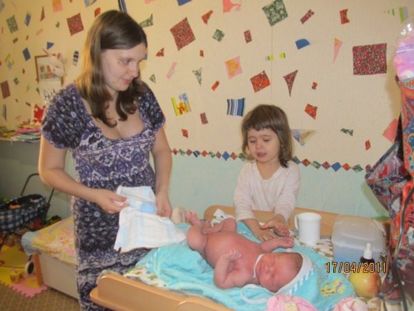 All is well that ends well. And quickly born.