My baby sleeps side by side, sweetly snuffles. My dear and beloved girl! But more recently, this tiny little ball was in my tummy. And I am very cute with him, and at times I talked seriously!
Less climb on the Internet, children will be healthier!
I planned to write this topic while being pregnant. Only my husband decided to send me to rest in a sanatorium, then to the sea, then to the village to my mother. He argued with this phrase: Less climb on the Internet – our daughter will be healthier !.
I did not argue with him. But the topics about my pregnancy I am writing now. For me, my pregnancy is a great joy, a kind of experience. Therefore, I, like many moms do, share my experience with others. And what if I find like-minded friends? 🙂
My pregnancy was welcome and long-awaited. And how can it be different? Children should be welcome and most loved, not otherwise. A child in the womb already feels a lot, sees light and night, distinguishes voices and touches, his heart beats.
When did you start taking your pregnancy seriously? I – after the first ultrasound. This research has shown that a small life develops inside me, and everything is for real! Then I began to think more about my position, about the upcoming birth, and about the changes in general in my life.
Somewhere from the third month all my movements became neater, and became more attentive. I began increasingly to stroke a slightly rounded tummy. And from that moment I began to talk to him. Maybe it looks silly. But talking to the baby in the womb is true happiness for me!
I was wondering what he is, my baby, what it looks like, what will be?
I knew that under my heart I was carrying my daughter, and therefore I spoke on girlish themes. I was overwhelmed with feelings of tenderness and love. But sometimes it was sad for some reason. I felt that my daughter was sad too. And I really could not allow my daughter to be sad! Therefore, she began to switch: she read nursery rhymes, fairy tales, and we both quickly calmed down.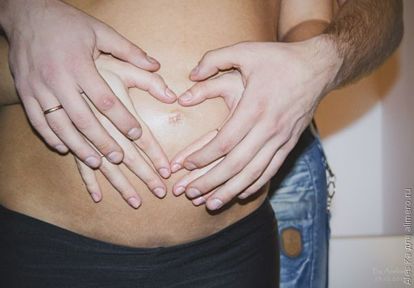 Then, to communicate with the daughter, the husband also joined. After all, how can you not take the crumb seriously? Yes, and our daughter, as it turned out, a very sociable man. She not only waited for our conversations, but also actively sought this out. And it was sometimes at night. It was also the way that I read fairy tales, sang lullabies, and my daughter all kicked me and raged in the tummy. But it is worth her husband to talk to her, as she calmed down and went to bed, giving us a rest.
Husband stroked his tummy, told all the poems that he only knew, invented something on the go. And when he was very tired, he just told me how things are at work and sure: I love you, my girls. I think a pleasant word is pleasant to everyone, let alone a child. This is a complete man, living, however, still in the tummy.
Tell me, did you communicate with your children when you were in position? True, you, too, did not feel sorry for them kind words?