A woman becomes a mother at the very moment when she learns about her pregnancy. Everything, in a life grandiose changes are outlined. Changing behavior, worldview, perception of events and phenomena …
I do not know about you, but, having learned that I would become a mother, I became more responsible and sentimental. Immediately there was a certain hostility to abortions and mothers who abandon their children. I used to treat this as something simpler.
Moreover, it is interesting that this came somehow by itself. That is because great strength is motherhood!
And what about dads? Does their forthcoming fatherhood change? Of course, we do not take into account those male parents who, in principle, do not want to have children and they are absolutely indifferent to the position of even a beloved woman.
It will be a question of those fathers who planned to become and wanted to become fathers. Does their fatherhood change? It seems to me that – yes. At least it should be.
They simply have to have increased responsibility for their family, because the right dad understands that now it depends on him that his child will be happy, warmed, petted, shod, fed. He has a desire to protect, lie on the breach on the embrasure, to become stronger, safer, wiser.
And if your man on the threshold of fatherhood all these desires have awakened, you can assume that you are lucky. On your life's journey, a real father came across, not a cuckoo dad.
In fact, fathers also wait and sometimes even with more zeal than mothers. That's just their expectation may be of a different nature. And it all depends on the psychological characteristics of your man.
Individuals adoring
When I got pregnant, I could not believe for a long time that this happened. Having spent ten tests and even went to the ultrasound, I could not understand myself mom. And the paradox, my husband, unlike me, immediately felt like a father.
It's an amazing thing, he was talking to our little son, stroking his belly, singing songs to him, laughing when he arranged invisible battles inside me. I somehow took it all calmly.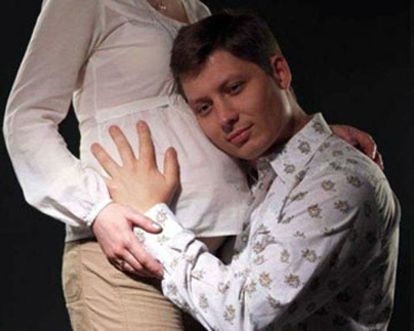 My husband went with me to an ultrasound when we determined the sex. And although he could not see at least something in the black, rapidly changing picture, he was greatly impressed.
At the same time, he was absolutely not ashamed of his zeal, despite the fact that in life to put feelings on display is not his strong point.
He was pleased to discuss with me all the stages of my pregnancy, he was keenly interested in how the next examination passed. I always knew how much I gained weight, what vitamins I take and what kind of analysis I'm going to take.
My husband enjoyed going to the children's stores, looking after the stroller, cot, and other relevant attributes. In other words – he really waited, worried, sincerely upset if something went wrong, and was happy when everything went according to plan.
By the way, I did not even expect such an attitude from him. My husband cannot be called too sensitive and sentimentally tender. He is more brutal in deeds and behavior, in character there is rigidity. But my pregnancy radically changed it.
Today, he is still the same as I recognized him, as I loved, hard, persistent, sometimes even overbearing. But now I know for sure that he can be another.
Indifferent individuals
And this attitude to the pregnancy of the woman he loves. And most often. No wonder they say that fathers begin to feel as such only when the child is born.
Representatives of this type, it seems, also want to have a child, but somehow they still do not realize that the desire has been fulfilled. They do not see the child, they do not feel it, and for these reasons they don't nourish any special feelings for the growing belly.
By the way, excellent fathers can grow out of such popes. Feelings come to them, just later.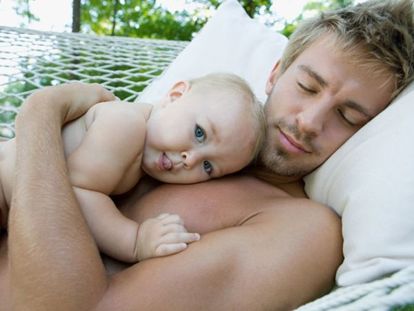 For example, my dad took both of my mom's pregnancies more than calmly. He was not inspired by the inspiration that he would soon become a parent, and simply accepted the situation as a given.
But he became a wonderful father. Perhaps, in our upbringing with my sister, he did not take the most active part. He did not explain the truths and did not teach us to eat soup with a spoon. However, it was with him that we loved to fool around. He was the one who invented games that were incredibly interesting. It was about him that I cried when he went on business trips.
With my son, dad also plays the same games. I must say, the son of his grandfather is also delighted. Their love is all-consuming.
In addition, we always felt protected. He protected us from the hardships of life and troubles. We have always lived well in terms of material, because dad was ready to hurt himself in the cake so that we had everything we needed.
Our offenders also had a hard time. And he never engaged in massacre. He exhorted verbally, but very intelligibly.
Even now he is trying to patronize us. Sometimes it is somewhat annoying. But at the same time, I know for sure that if a disaster happens to me, which I will not be able to cope with myself, dad will always come to the rescue. He is near. I know it, I feel it.
Shy individuals
In fact, the representatives of this type of fathers are incredibly similar with the type one. They are also delighted with the pregnancy of their wives. Wait, hope and believe, as they say. However, it seems silly, inappropriate to show any feelings.
They are just shy. And not only others, but also his wife. And the truth, to talk with the stomach – it's stupid somehow. What will relatives and friends think? And friends?
Such popes simply value social opinion too highly. Even the slightest chance that they seem stupid in the eyes of the public, completely discourages their desire to show their feelings.
So dads always want to shout: Dear future dad, wake up! What do you think there is some kind of public opinion, if the mother of your unborn child wants so much to see you stupid with happiness!