Being in an interesting position, I began, as if, to think for two. If you wanted something, there was always a question: would it be useful for the baby? So I reviewed my diet and included in my diet more protein foods, as well as dairy products, fish and fruits.
As for physical exertion, I was convinced that they would always be beneficial, the main thing in all the sense of proportion.
Taking into account the experience of a friend who continued to do Pilates during pregnancy and quickly recovered after giving birth, I firmly decided that I would also sign up for a training session, but … from the second trimester.
First Trimester Features
Every future mother knows that pregnancy is divided into trimesters, and each of them has its own characteristics. So the first trimester is considered to be the most responsible, because during this period all the organs of the future baby are laid, the placenta is formed, through which the fetus will be supplied with blood throughout the next period.
Since the world that is being born is still so fragile, and any physical activity can lead to irreparable consequences, I decided not to risk it. But this does not mean that I threw all the work and lay down on the sofa, no, I just replaced physical exertion with walks in the fresh air, and I also made up a small complex of morning exercises.
My preferences
So, no jumps, jerks, exercises for the press. Breathing exercises and simple exercises for arms and legs, that's what I stopped at.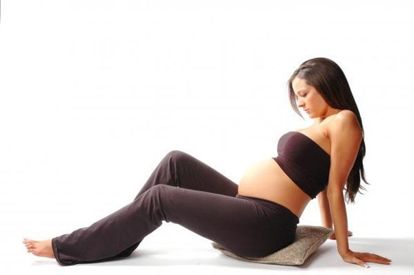 Since the entire period of pregnancy is aimed at preparing for childbirth, I mastered slow breathing with full breaths and exhalations, promoting relaxation. Preference was given to walking on the spot, with heaps from heel to toe, with the movement of hands, circular movements of the shoulders and feet.
Since in the standing position the load on the spine increases, then I did some exercises, if possible, lying down. For example, lying on your back, legs straight, hands on the floor glide up and inhale, hands on the floor slide down to your legs – exhale, or lying on your back, legs straight, one hand on the stomach, the other on the chest and alternate breathing with the chest and stomach .
Fitball became indispensable for all 9 months. And although in the first trimester I just sat on it and swayed, it perfectly relieved the tension and relaxed.
I performed the morning gymnastics complex with ease and under pleasantly calm music (rhythmic, in this case, not desirable). And yet, if I felt that somewhere pulling or hurting, then immediately stopped the lesson.
P.S. Pregnancy is not the easiest period in a woman's life, but from how you feel about yourself, to look after yourself, to think for two, he can become the happiest. Fill your life with care and love – and waiting for your baby will give you unforgettable moments and positive emotions!
How did you keep fit during pregnancy, especially during the first trimester? Share the tip!