As soon as a woman finds out that she is pregnant, she immediately remembers all the bans, omens, superstitions, trying to protect herself from unrest, upheavals, negative emotions and … physical exertion, considering that in the current position walking in the fresh air is enough. So I thought, until I met my friend.
Unexpected meeting
Svetlana was eight months pregnant, but she looked just wonderful: she was cheerful, vigorous, and active. She even attended a sports club before pregnancy, and, to my surprise, did not quit training even when she learned that she would have a baby.
My acquaintance told with great enthusiasm how she could cope with swelling and back pain with the help of special exercises. Inspired by such a meeting, I hurried to the nearest fitness center.
It is a pity, but there was not a specialist trainer who could conduct classes with future moms. What's next? My high spirits gradually faded away, but I nevertheless decided not to abandon my plans and talk to the gynecologist.
I was just lucky with my doctor. This is a sweet, friendly and attentive woman who believes that expectant mothers and their babies simply need regular exercise.
Olga Andreevna advised to contact the exercise therapy room, where they would help me find exercises for gymnastics, and also gave me a reminder of when I shouldn't start classes.
Memo
You can not do gymnastics when: elevated temperature, severe fatigue and feeling unwell, feeling of heaviness in the lower abdomen or tingling, poor coordination of movements, exacerbation of chronic diseases, high blood pressure, pronounced early and late toxicosis.
It is not recommended to do gymnastics in the third trimester, if the first two you did not do.
So, we train muscles
In the exercise therapy office they explained to me that the safest period of pregnancy for playing sports is the second trimester, that gymnastics for pregnant women should include exercises for breathing, relaxation and stretching the muscles.
Here are the exercises that I performed regularly 3 times a week. They are directed not only to improve well-being, but also to prepare the body for childbirth.
Relaxation exercises. Under pleasant music held a comfortable position. Deep and measured breathing, imagined positive images: the sea, sand, sun, forest, lake, streamlet …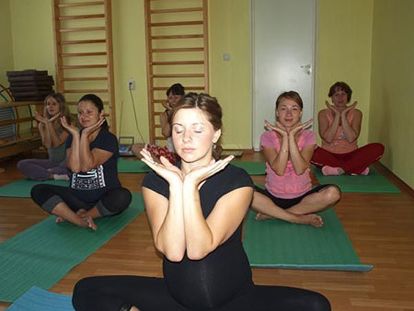 Stretching exercises. 1. Reaching, she raised her hands high above her head, held her for a few seconds and lowered. 2. Performed the slopes, as if delineating large circles. 3. Several circular rotations of the head in one and the other side.
4. Raised shoulders up, drew back, lowered down. 5. An elongated foot performed the rotation of the feet around the ankle, and then around the knee. 6. Joining her hands behind her back, raised them as high as possible, and then relaxed.
Exercises for correct posture. Spreading its legs at a width of 5–10 cm, it slightly tilted the body forward, while keeping arms relaxed at the sides, and knees straight. In this position, strained the abdominal muscles and tightened the buttocks, then relaxed.
Exercise to strengthen the muscles of the back. Dropping her arms and knees, she strained her abdominal muscles. In this position, she raised one arm forward, and the opposite leg backward and lingered for 5 seconds, then slowly descended to its original position and repeated on the other side.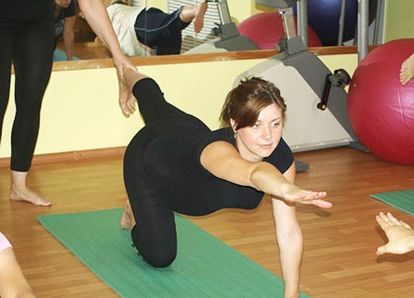 Exercise kegel. It is necessary to strain the muscles of the vagina and anus, linger in this position for 10 seconds, and then relax them. This is a very useful exercise to do 25 times a day.
Exercise for legs. Lying on its side, bent the lower leg at the knee, and the upper leg kept straight. Pulling the upper leg, straining the sock and then lifting it up as much as I was comfortable. Then she lowered and, turning over on the other side, repeated the same thing.
I alternated all the exercises with breathing restoration exercises, and also conducted a conversational test (if during the exercise you can speak freely, then the load is feasible).
The main thing is that everything that I did, gave me pleasure, and therefore the baby.
Gymnastics – a panacea for many problems
Gymnastics can help expectant moms cope with many related problems, for example, help get rid of back pain, constipation and edema. So start practicing right now, but do not forget to consult with your doctor.
Do you have any exercises that have helped you to feel in perfect physical condition for all 9 months? Share the secret.