Returning a flat stomach was my number one goal after childbirth. Even during pregnancy, I read a lot and made myself a detailed action plan for this.
Training

Ideally, you need to take care of this before pregnancy, if you had a flat stomach before it, then it will be much easier to return it than to create it from scratch. Therefore, if you are only thinking about replenishing your family, then be sure to download the press. The press will be grateful to you! It is also necessary to buy a postpartum bandage, or special underwear in the form of a slimming shirt. I bought a bandage.
You need to work in the hospital!

First of all, after you come to yourself you need to put on a bandage. All the while I was on my feet, I wore it, and only took it off when I was lying. It supports the skin very well. Tighten it should be quite tight.
I also did a special exercise from the course Bodyflex. Exercise is very simple and does not require much physical effort. I did it every day several times. It can be done in two ways, alternating, depending on your condition.
1) Lying on your back, on the bed. Hands should be placed on the stomach, legs bent at the knees, feet should be on the bed. We take a deep breath through the nose, and you need to breathe with the stomach, that is, to inflate not the lungs, but the stomach. Then make a full exhalation through the mouth. We hold the breath and forcefully draw the stomach towards the spine. Keep on 8 or 12 accounts. We inhale with our nose, take a few breaths, and repeat the exercise several times, I did at least 10.
2) Standing. Starting position: legs shoulder-width apart, slightly bent at the knees. Put your hands on your knees, keep your back straight. And repeat the breathing exercise.
This exercise is very effective, proven on myself and my friends who have given birth. It tightens and strengthens the abdominal muscles. It needs to be done up to the moment when the gynecologist will allow you to return to physical exercises.
Work at home

When the doctor gives the go-ahead to sports, you can begin to perform more complex exercises, however, I still in the form of a warm-up doing breathing exercises in the morning.
In order to make the abdominal area perfect, I try to do three things:
1) Wraps. They help tighten the skin, make it more elastic. I really like the Alganika wrap, you can order it online or through joint purchases, if they do in your city. It is also very well tightens the skin wrap of mustard and honey. Mass must be applied to the skin of the abdomen (I immediately apply on the thighs and buttocks), wrap with cling film and walk for about 40 minutes. NOT LESS. It will burn very much, but beauty requires sacrifice!
2) Aerobic exercise. This is a jump rope. They help burn excess fat.
3) Work directly on the abdominals. These are usual various rises of a trunk, exercise a level, a hoop, a gymnastic skating rink.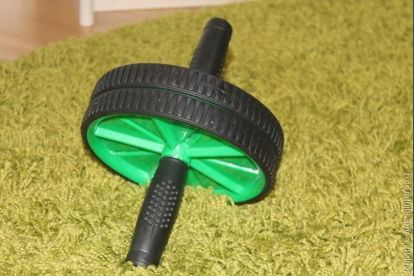 To return the former figure after childbirth and even make it even better than it was – this is real. You just need a lot of willpower, patience, work and good motivation!