I have already told here about how I met my husband and how quickly we got married, because I got pregnant 2 months after we met. I was at that time 17 years old. Many people ask me if I was scared? After all, 17 years is quite a young and tender age.
Today I want to confess. Yes, it is not easy. It is terrible to be pregnant at the age of 17, and it's hard to know if you want to marry the father of your unborn child.
My pregnant woman's brain refused to accept reality as it was. Nerves naughty very much. I was constantly on edge. I could not understand whether I want to marry or is it just so necessary. It seemed to me that everyone around did not believe that Maxim and I love each other.
Initially, everyone thought only that we should get married because I was pregnant at 17 years old. And, you know, it is now, after many years, it seems to me that I was then winding myself up strongly. But I understand girls who were at that age in exactly the same situation.
When I was 17, I was suddenly afraid that my parents would refuse me. After all, the first sentence of my mother was an abortion. I thought, if I get married, they will no longer communicate with me.
Parents told me that nothing good will come of our wedding. They did not support, and, on the contrary, very frightened me. I myself did not believe that everything would be fine. As a result, I moved to Max before the wedding because I could not be in the same apartment with my family.
And I was afraid that if I got married, I would remain uneducated.
Yeah, hormonal failure walked through me thorough. The fact that you need to give birth, I understood. But I was afraid to play the wedding. I heard many stories of classmates that it is difficult to learn for those who jumped married in the first year.
Of course, it was not easy. And the first time I tried to hide the pregnancy as I could. But toxicosis tormented me terribly! My behavior also changed before my eyes. I was afraid not to pass the first session, I was afraid to look at the teachers. It seemed to me that everyone condemned me.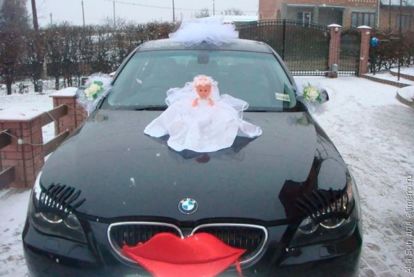 Classmates were whispering, teachers looked askance. When it was impossible to hide, I confirmed that I was pregnant.
But there are more good people. Thanks to them! And I graduated from the institute. And we got married before the birth. And a healthy baby gave birth. And we live well and get on well with Maxim! Both my parents and Max, souls do not care for us and their grandson!
Girls, if you suddenly fall into this situation, do not despair! It will be scary, but you go ahead!
Or maybe some of you have already experienced a similar situation? Tell us about your pre-wedding fears?