Many women after childbirth are gaining weight, I, of course, also did not become an exception to the rule. Unfortunately, during the period of breastfeeding it is impossible to observe strict diets that contribute to intensive weight loss.
But, nevertheless, every woman, no doubt, wants to look slim. Now I will talk about the rules that the family doctor advised me to do.

Tips for losing weight to nursing women
1. In your diet should include a lot of all kinds of fruits. Just do not eat bananas and those fruits that may be allergic to your baby.
2. Should eat more vegetables. Cooking vegetables is best steamed. In limited quantities, you can eat only potatoes, all other vegetables – without restrictions.
3. Meat is preferable to eat chicken breast and veal. Fish is best steamed and choose low-fat varieties. From dairy products kefir and low-fat cottage cheese will contribute to weight loss.
4. Smoked, fried and fatty foods should be excluded. Do not eat before bedtime.
5. It is necessary to limit sweets. It is the best of all to refuse flour products completely or to use only grades with bran.
Based on all the above rules, I made myself a rough menu for the day.

Sample menu for the day
Breakfast consisted of kiwi, a slice of grain bread and low-fat cottage cheese.
For lunch I ate chicken fillet, cooked with onions and without salt. Served with carrot, parsley, dill and zucchini vegetable stew.
Dinner usually consisted of a small piece of boiled fish with garlic and dill. I also ate a low-fat cottage cheese and saw kefir.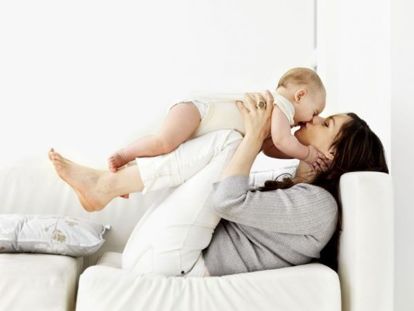 This diet is quite balanced and does not require much effort. I almost had no hunger.
By the way, as soon as I began to adhere to these rules of nutrition, the child's problems with the tummy almost immediately disappeared. So I lost weight, and the baby began to feel better.