During both of my pregnancies, I had varicose veins. In the first pregnancy, the veins tore, as the older generation says, when there was already an impressive belly. Either at that time there was still no compression knitwear, or finances were not allowed, but I remember that all that was wrapped up with an elastic bandage, which made little sense, went around.
In the second pregnancy, varicose veins began even earlier – about ten weeks. Unfortunately, I learned later that the veins suffer not only from the fact that the fetus puts pressure on them, but also from the fact that the level of progesterone rises in the body of a pregnant woman. It makes the vessels softer, weaker. And since I have been drinking duphaston since seven weeks, and this is progesterone, then naturally my veins weakened very quickly.
As soon as I realized that the case was bad (the veins were swollen and sore), I immediately decided to buy special tights.
Arriving at the salon, consulted the seller. The selection criteria were as follows:
– density
– degree of pressure
– view (panty hoses, stockings or stockings)
– Colour
Since it was autumn, and I still had to go all winter, I chose dense tights for pregnant women of universal flesh color. Panty hoses at that time cost about 1,800 rubles.
Closer to spring, I also bought stockings, since my tights were worn out, and the place under the stomach turned out to be small. Therefore, the tights constantly crawled, and it was terribly uncomfortable.
The degree of pressure and size helped me determine the seller on the spot.
When deciding to wear compression knitwear I had a few questions.
The seller in the salon offered me to buy a device for putting them on with the tights. Seeing that I did not really want to spend on it, the seller advised to wear tights in rubber gloves. I understood the benefit of her advice when I tried to put them on for the first time.
In fact, to put on these high-quality compression tights without any devices is simply unrealistic. They are very tight. In rubber gloves, it is much better – between the glove and the tights, the right grip arises and slowly but surely, they can be pulled on the legs.
Wear tights need to lie down. It takes about five minutes, no less. Actually, this is a small plus – every morning I had a kind of charge, from which you can't get away)). With me in my bag, I always had a pair of gloves that I used to fix tights during the day.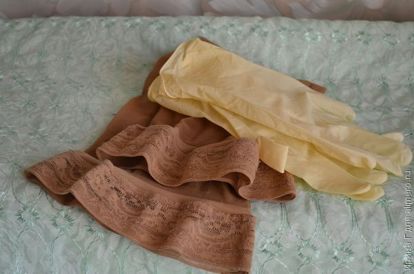 How to wear?
The seller in the cabin, said that you need to wear tights all day and take pictures only in the evening, lying in bed. I immediately figured out that this is unreal, since I did not understand, but how could I wash myself now?
After visiting an angiologist, I learned that it is not necessary to go to them all day. If I have done everything and I am knitting, reading or watching TV, then you can already remove the tights. They should also be removed while lying down.
This is a separate story.
1. Stockings and panty hoses should be washed with a mild detergent.
2. Dry on a towel in straightened form
3. The rubber in stockings should not be washed in any way, but only wiped with a water-alcohol mixture.
What is better – stockings or tights
I would still advise taking stockings. Why?
1. Although my stockings and tights were of the same density, they behaved differently. For some reason, panty hoses were unloaded under the knee. This caused discomfort, and had to constantly correct them.
2. Since taking off and putting on these things is a big problem, plus the stockings is that if you need to change underwear or wash yourself during the day, then you can contrive to do it in stockings without removing them.
3. Stockings, though not much, but cheaper – about 1,300 rubles.
4. In the same stockings, you can go to the generic, and not buy new ones (with my varicose veins, it was necessary to give birth in a compression knitwear)
In pantyhose different density at the foot and at the thigh – in the lower part of the pressure is higher, and in the upper part below, it is noticeable in the light.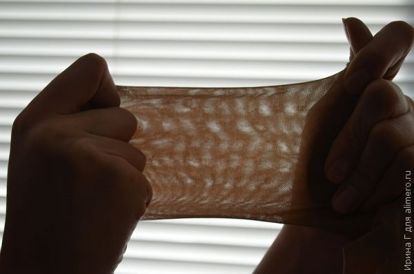 The texture of knitwear is different, not like ordinary tights, similar to a mesh, but on the leg it looks like ordinary tights.
Of course, what I am describing will seem terribly laborious for many people (and this is true), but for me compression knitwear was just a salvation. For a long time I could not stand it: my veins were very sick. And in these tights there was no pain and no veins were visible at all.
Thanks to these things, I walked a lot during pregnancy, skied and was able to keep my legs in a more or less decent form (although, I was a little late though …)