Each pregnant woman, having seen two stripes on the test, sooner or later goes to register with the antenatal clinic. And here begins: an infinite number of different tests, ultrasound, examinations, measurements, weighings. And you do not want to want, but listen to the advice and recommendations of the doctor. You trust the most precious thing you have – your baby.
In turn, you expect from the doctor an attentive and competent attitude towards yourself and the little man. You expect that people in white coats will ensure a comfortable and, most importantly, safe development of the puzozhitel. But is it always that way?
The right to life of a new person
Our pregnancy was very desirable, thought out and planned. When the test showed 2 stripes, we were infinitely glad. These emotions, it seems to me, are the brightest and unique. But, as it turned out, not everything was so smooth.
At 6 weeks I got to save. There was a detachment of the placenta. When I was already pregnant, but did not yet know about it, I took pills for colds and thrush. Having learned about this, the doctor began to persuade me to have an abortion, told me about possible fetal defects. My husband and I were just terrified of what we heard.
And no one told me then that according to statistics, only 3% of congenital anomalies in children are caused by the use of drugs by the mother during pregnancy. But I learned this later when I looked into specialized literature myself. And then I already resigned myself to the fact that I would have a child with disabilities, and was preparing all my life to bear this cross.
10 days I lay in the hospital. This is where my acquaintance with our health care system began. As it turned out, everyone, regardless of the diagnosis, is prescribed the same medication. We swallowed the same pills with the whole chamber, went to the same injections in the morning.
I remember very much the conversation of two doctors I had heard, in which one, apparently, senior in rank, instructed the other that, according to the plan, so many people need to be discharged every day and what difference does it make whether they are healthy or not? We have a plan! I will teach you to debit with a credit!
After discharge, I went to our clinic to get registered. The doctor and nurse seemed very nice to me. I left the office, as it should be, with a pile of directions for all sorts of analyzes, a roundabout sheet.


Big trials
At 3.5 months, I began to feel the movement of the baby. It was so nice! My husband and I were happy, we talked with the baby, turned on the music, I walked a lot, I ate well, did exercises for pregnant women. But once they called me from a female consultation and in a serious voice they asked me to go to them urgently.
When I entered the office, they told me that they had received positive tests and tests for AIDS. I felt myself as if in weightlessness, the earth left from under my feet. I put on the signature of 2 pieces of paper. I did not understand at that moment, I signed. One copy was given to me. It was written there that I was notified that I was sick with AIDS, instructed how to behave, and I now officially confess to an AIDS patient.
I felt bad in the office. And I was soon taken to the infectious diseases ward of the maternity hospital. Then hell began. Neglect, phrases So are you a drug addict ?, This is your diagnosis! Are you joking?, Examined your hands. It was insulting to tears. For all my life, I had only one man – my husband, I didn't even smoke, and I never saw drugs. My head just sounded: For what ?.
Here I was able to spend only 2 days. When asked to retake the analysis, they answered: Why? There are almost no errors. They put a girl in my room with a terrible cough. In addition, there were stabbing injections, from which my pressure dropped to 80/40. During these 2 days I lost 3 kg. I packed up and left.
We went to the Kiev City AIDS Center. Seeing my condition, the doctor began to calm me down. It turns out that pregnant women often have mistaken AIDS, because The test, which in the laboratories do the analysis, does not reveal the virus itself, but the presence of antibodies that the body produces to fight the virus.
The body of a pregnant woman produces similar antibodies to more than 20 diseases and viruses, including and thrush, which pregnant women often suffer from. Cheap test, which is done in state laboratories, responds to all these antibodies.
My husband and I have redefined the analysis in a more expensive and reliable way. In the queue, I saw people with this terrible disease. Exhausted, like shadows. It was scary to even think that the same fate awaited us with the husband and our baby. A few days while we waited for the result, passed like a dream. I did not want anything. Neither eat nor walk, nor watch TV. We held hands and were silent. I prayed all the time. I think my husband too. It was scary and not so much for myself as for the baby.
When we arrived for answers, I can not even convey what I felt. Inside, everything was stretched like a string. Of course, the results were negative. It was a mistake that cost us so much. What my husband and I experienced did not wish the enemy either. We didn't even tell anyone about this, because did not want our loved ones to experience the same as we.
Who is responsible for the errors?
When I came to the antenatal clinic with the analysis of my husband and mine, I did not hear any apologies. For them, nothing happened, they did not inform me that 80% of positive tests for AIDS in pregnant women are refuted. This I learned later from specialized literature. In the meantime, I sat in front of them on a chair and did not even know what to say, how to convey to them what my husband and I had experienced, because there are no such words.
No one answered why I was diagnosed without confirmation, although, as they explained to us at the AIDS Center, they did not have the right.
Later, when I was in the queue for an ultrasound, my card came into my hands and the sheet that I signed was glued in when I was diagnosed. They did not even consider it necessary to remove it! I snatched it, tore it into small pieces and threw it away. Together with him I threw away everything that I had experienced, and for myself decided that I would not believe a word of them until I rechecked.
On the ultrasound I was told that my baby is developing well, everything is in order. And with photos of my boy, I, happy, stomped home. Ahead of me was waiting for the beautiful and easy appearance of a healthy son into the light.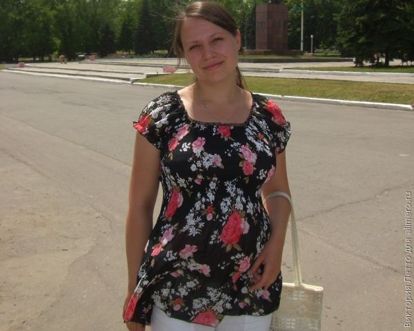 Though bitter experience, but he helped me understand that you should not panic ahead of time. As the doctor can make a mistake, treat you differently than you expect from him. I hope my experience will help someone else.