Upon learning of their new position, future mothers immediately begin to think about the wardrobe. Today I would like to share with you those conclusions about clothes for pregnant women, which I came to myself through trial and error.
We'll have to start with the fact that a pregnant wardrobe has a lot of restrictions. Especially hard to have clothing lovers under the belt and shoes with heels. It is with the shoes and I would like to start. If you, like me, adore these shoes:
Then you have to accept and go to the store for shoes on a flat sole or a very small heels. You should not dwell on very cheap options, thinking that you are bringing this pair of ballet shoes through only one autumn. Remember – the next year you will not be able to walk on the heels all the time either – you will need to roll the baby in his transport, and doing it in high heels is possible, but very, very uncomfortable.
Want to really save? Buy a good pair of sneakers, for example, German. They keep the temperature well, the foot is well fixed and in the end, you can choose unsportsmanlike sneakers, and you can wear them not only with jeans, but also trousers.
Already at the end of the first – the beginning of the second trimester, your tummy will begin to grow and habitual pants will become small to you. Buy at least one jeans for pregnant women – they have a very comfortable belt, and they are also very wearable. My pregnant jeans are still alive and I sometimes wear them: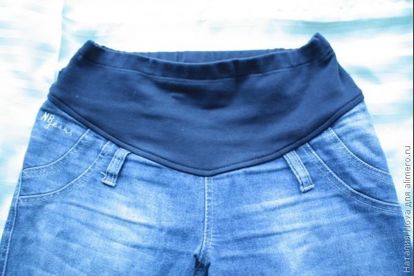 Today, a lot of shops for pregnant women. And you can only buy jeans there. Their only drawback is the price of the most ordinary, in general, clothes. So the rest of the wardrobe is quite possible to choose even on the market. Do not forget to focus on the season: in summer – dresses in the Greek style, and in winter – warm overalls.
In the cold season need tights. Choose with a low waist – those that you buy in the store for pregnant women are likely to crawl and crush, just like the usual ones with high. For me, it became especially noticeable on large terms – on the pantyhose for pregnant women there was still a rubber band, the pressure of which caused the baby to want to kick. So I just bought a pair with a waist on the hips.
Be careful with thin knitwear! If you buy such a blouse on a round tummy, it will constantly crawl up. If you really want thin knitwear – choose something longer, for example, a tunic.
And the last – before you buy something specifically for pregnant women, think – can you replace it with something else?