When I was pregnant, I did not know about such a concept as basal temperature. More precisely, I heard that it is measured in order to learn better about ovulation, and as a result, the possibility of conceiving a child. But the fact that she carries useful information for pregnant women has become a revelation for me.
It would be desirable that all pregnant women or those who plan to know about this method.
The question is, why? I answer.
By measuring the basal temperature, you can find out about the presence of pregnancy, and if it has already arrived, you can identify abnormalities in the development of the fetus.
The last moment I was very surprised. I did not think that at home it can be revealed.
Why is this temperature can so much? And all because it characterizes the hormonal background in the female body.
How is basal temperature measured?
For this is useful the usual mercury thermometer. Of course, if you have electronic, then you can use it.
You need to measure in the morning, immediately after waking up. It is very important to always do this at the same time, well, a maximum with a deviation of 30 minutes.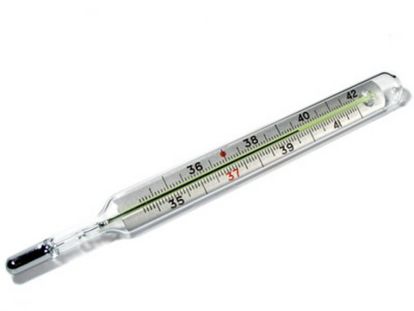 For this procedure, use the rectal method. Although, if desired (or rather unwillingness), it can be done in an oral or vaginal way.
You need to measure at least 5 minutes. If you took an electronic thermometer, then the time, naturally, will be reduced to 30-60 seconds.
The indications are influenced by medication, illness, travel, stress, so it is desirable to exclude them, and if this is not possible, then you need to write these moments in a notebook next to the temperature value.
The values ​​of the basal temperature should be recorded within a month, and then build a graph. On the vertical axis, each cell will correspond to 0.1 degrees. And on the horizontal – 1 day. Then you need to connect the points.
The days when any deviations were present (I wrote about them above — drugs, diseases, etc.) should be excluded, that is, they should be missed.
To make it more clear how everything should look like in the end, look at the picture.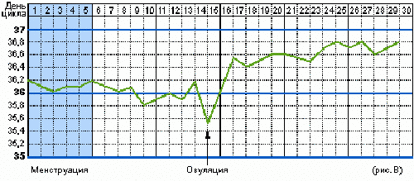 How to decipher this schedule?
This graph can be used to diagnose pregnancy. To do this, look at your line. A sharp drop in temperature indicates ovulation, then the temperature begins to rise. If more than 14 days have passed after ovulation and the temperature has not decreased, this indicates that the pregnancy has occurred.
The basal temperature graph is useful in order to understand whether there are any problems in the course of pregnancy. So, it is known that this temperature for women who are in an interesting position, should be above 37 degrees to 16-20 weeks.
If the temperature decreases, then the hormonal background has changed, and an urgent need to consult a doctor, because there is a risk of miscarriage.