What is the bandage knows almost every young mother. Even during pregnancy, doctors recommend wearing it. There are several types of orthopedic braces, especially prenatal and postnatal.
The bandage is an elastic belt that fits tightly to the abdominal cavity and protects the muscles of the back and abdomen from the load.
From him there is a real benefit, checked for yourself. I wore a bandage during the first pregnancy. During the second pregnancy, due to the incorrect position of the fetus, I could not use the bandage and, unfortunately, my back ached more often.

What is a postpartum bandage for?
In maternity hospitals, many gynecologists recommend women to wear a bandage. Doctors say that it helps speed up the process of uterine contraction, and also relieves the spine. And it helps to bring the figure to its former state.
My first birth was natural, after which I wore a universal bandage several times, acquired during pregnancy. But for me it was not very comfortable, and I abandoned his wearing.
But the second birth I had with cesarean section. It is after such births that doctors most often recommend wearing a bandage, because this is abdominal surgery. I put on my universal again, but it is not very comfortable, and I had to buy a new one.

What are postpartum bandages?
There are several types of bandages, which one you decide to purchase, the main thing is convenience and comfort, as well as the benefits of wearing it.
As I said, there is universal bandage. It can be worn before and after childbirth. It is made of elastic tape, it has a wide and narrow parts. During pregnancy, the widest part should be at the back, and the narrow one fastens under the belly, holding it. After giving birth, the bandage turns over, its wide part constricts the abdomen.
It seemed to me not very convenient. During pregnancy, everything was fine, he was well supported by the stomach. And after childbirth, the bandage constantly went up, creating discomfort. I refused it. By the way, he also has a minus in the fact that he is quite dense and can be worn mostly at home, as he stands out under the clothes.
I purchased bandage panties. He was more comfortable and comfortable to wear. He has a high waist, with a wide and elastic belt, on the abdomen and lower back elastic insert.
Getting such bandage, pay attention that there was a fastener below. Another good thing, if there are side fasteners, then you can adjust the strength of the tie.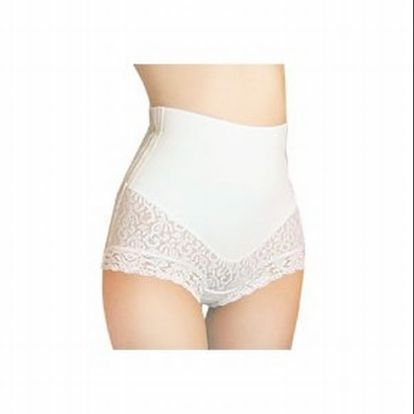 Those who want to visually reduce the hips can be purchased bermuda bandage. Some models are knee-length. But it seems to me, you don't have much time in them. Although I can not say with certainty, I did not try it myself.

Contraindications
Postpartum bandages have contraindications. Before you wear it, you should consult with your doctor.
You can not wear a bandage with inflammation of the stitches after cesarean, if there are diseases of the gastrointestinal tract, with edema of the kidneys, if there are diseases of the skin.
By the way, some doctors do not recommend wearing a bandage if there is a longitudinal seam after a cesarean. But my friend wore a bandage in this case, however, the doctor herself recommended to her.

How to wear a bandage?
This question worries many young mothers. There is no consensus on this. Someone recommends wearing for about 40 days, others say 2-3 weeks is enough, and then if you have the desire and opportunity you can do physical exercises.
I wore for about a month, and when I returned to normal after the operation, I hid the bandage in the closet. Suddenly still come in handy.