The fact that my child will be born as a result of cesarean section, I knew for a long time, since I had suffered from severe myopia since childhood. Therefore, having become pregnant, I began to study articles, read reviews and, of course, scare myself.
There were few detailed stories about Cesarean section on the Internet, but I wanted to know the details: how long it took, what sensations were there during the operation, were there any further problems, etc. etc.
For those as curious as I am, I talk about my Cesarean.
Maternity hospital

I took the referral to the maternity hospital in advance and, judging by it, I had to go for an operation at 37 weeks, although the operation was scheduled for 38 weeks (January 25).
After spending 2 days at home, I reluctantly went to give up. The patrimonial department was clogged, and I, standing in the emergency room, secretly hoped that they would send me back for another couple of days. But there was still a place for me …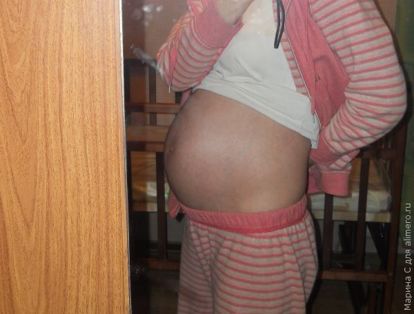 In the department, I even liked it – fresh repair, comfortable chambers, smiling staff, good food, a TV set and a comfortable leather sofa in the lobby. If it were not necessary to give birth, I would even relax and rest.
Began…

4 days before the planned caesarean section, that is, on January 21, I felt something was amiss. My daughter fell silent and only occasionally quietly pushed in the stomach. My stomach was constantly straining, it became hard, I was terribly uncomfortable walking and sitting. I reported this to the doctor.
On examination, it turned out that weak contractions begin (not at all training, as I initially thought). I realized that until January 25, my daughter is unlikely to stay.
About 6 o'clock in the evening the doctor came up to me and told me to prepare the bag in the operating room, and she went to collect the team (and I, naive, planned everything out and thought I would give birth in the morning with the chief anesthesiologist).
With tears in my eyes and wild fear in my heart, I packed up, went into the shower, took a farewell glance at the ward and went to get a nurse where I had never been before.
Training

Before the operating room, a cheerful aunt in a white coat long asked me about my diseases before pregnancy and during it, measured the pressure and tried to distract with jokes. Then she walked me to the cherished door, stepping over that, I immediately stuck to the rug and left my slippers on it.
I was promptly shod with linen covers, a handkerchief was tied on my head and my glasses were taken away, saying that there was nothing to look at. I tried to resist, but I was not listened to and half-blind was pushed into the operating room.
A bright light hit his eyes. A small white room was filled with people: several nurses, an anesthesiologist and his assistant, two doctors. I quietly said Hello. Everyone turned their heads sharply and answered: Hello!
They put me on the operating table and told me to bend forward with my back arched. Ha, and how do they imagine it ?! Naturally, I did not succeed. Maybe because I resembled a clumsy elephant, and maybe, thanks to its curvature, the anesthesiologist inserted the needle into my spine from the fifth time. It was wildly painful, not even an anesthetic injection, made in advance, saved.
My hands firmly fixed (crucified! – flashed through my head), installed a device for measuring pressure and pulse, a catheter was inserted into a vein and into the urinary. Ten minutes later, the lower part of the body did not feel anything.
Well, the operation itself

Guess what we are doing now? – asked the doctor. Cut me. What else can you do? – I tried to joke. And then I felt nauseous. The reason for this was the recently eaten dinner, because I did not know that there would be an operation and ate to the heels. Following the evil sight, the white flies danced before my eyes and I had to ask for an oxygen mask.
I felt that I was being rocked from side to side and after a few seconds I heard the piercing cry of my daughter. It was brought to my face (and what is the use if I don't see any further than my nose?). Why is she so white? – I asked. This is a lubricant. Be glad you are not blue, "the nurse replied.
So, my beloved Victoria was born on January 21, 2013 at 20.02, 8/9 on the Apgar scale.
Then I lay down and discussed my internal organs with the doctors, because by prior arrangement, I had to remove two endometrioid cysts during the operation. The doctor said that in the small pelvis a huge number of adhesions and the operation may take another hour. I decided that for another hour I definitely didn't endure and ordered: Sew !.
When they began to sew, it felt like all the entrails were being pulled out of me. I lay and prayed that it would end soon. Apparently, God heard my prayers and in a few minutes I was already laid on a gurney. By the way, a terrible feeling – you see that they hold your legs, but you do not feel them absolutely.
Well, the night …

I was promptly taken to the intensive care unit, laid on a bed and covered with two blankets. The nurse made an anesthetic injection in advance, the doctor hooked up the sensors, and a friendly crowd all left.
I quickly called my husband, family and friends and waited for my legs to go away from the freeze. After about 30 minutes, I began to shake violently, my teeth were chattering. At the same time, sensitivity returned to the legs and a aching dull pain in the abdomen appeared. Gradually, my sides, back, and chest began to hurt … It seemed to me that I had been under an asphalt paver.
That night I never fell asleep. She simply lay, looked at the ceiling, cursed through her teeth and waited for morning to come. It's good that my husband supported me. I called him every hour and complained about the fate of the villain, and he patiently listened and soothed.
In the morning a nurse came for me and said that it was time to go to the ward. Yeah, now, I'm running! I couldn't roll over in bed, and she made me get up. I begged her another hour.
An hour later, the nurse came with the doctor, and they patiently began to explain how to get up, where to put your foot, where to put your hand. After half an hour of torment, I managed to sit on the bed. There was a hum in their ears, flies danced in front of his eyes, his whole body ached terribly.
Slowly, our procession moved to the second floor of the ward: I, with the doctor and nurse holding me under my arms, and the midwife behind me with the chair.
Recovery

Many say that they ran around the maternity hospital on the second day after cesarean. I believe them. But this is not about me. After the surgery, I seemed to be learning to walk again. And she went with such a hook that it was scary herself, if I would not stay in this position forever.
My daughter was transferred to the ward on the second day, probably so that she would not relax. It's good that in addition to the kids there were some kind of clunks, as I called them. They were equipped with wheels, a comfortable bed for the child, a shelf below for all the necessary things and a stand for bottles.
By the time I was discharged, I could say I was in shape, got rid of the gait of the hook, and also learned how to breastfeed, swaddle and change the diaper. And the stairs on the day of discharge I flew in seconds, I really wanted to quickly leave behind these hospital walls and return to our cozy nest.
About fears

Looking back, I can say with confidence that most of my fears were drawn by my over-developed (I would even call him temporarily ill) a pregnant imagination. Surrounded by professionals, fears disappear, and you realize that everything will be fine, you are not the first and not the last woman to go through this.
In the end, the blue-eyed miracle that now runs around me and shouts to me Mom! Is worth those fears and pains! Therefore, do not be afraid of the operation – because ahead of you have a meeting with the most beautiful creation of God – your child!