I have two daughters growing up, and it so happened that both of them were born through a cesarean section. Both times it was a planned operation, for medical reasons. I will not go into details, let me just say that in all cases I had no doubts about the choice of doctors in favor of just such a birth of my children.
Although both daughters were born during the operation, there are still differences. In the first case, general anesthesia was chosen during the medical intervention, and in the second case – epidural anesthesia.
When I was pregnant with my older daughter, I didn't have access to the Internet at all, and therefore I could only learn in advance about the upcoming anesthesia and surgery from the doctor's words. With the second daughter I went already in the period when I could get any information from the World Wide Web, but I still couldn't get the answers to all my questions. Therefore, I want to tell future mothers a little about anesthesia for caesarean section, because this is a topic that concerns not only the health of mommy, but also the baby.
My eldest daughter was born 10 years ago, and nobody offered epidural anesthesia to me. The doctor said that anesthesia would be common, and I agreed, because Had no idea that there could be some other alternative.
To say that I was nervous before the operation is to say nothing. My legs literally gave way to the operating room. All sorts of nonsense crept into my head. It seemed to me that I would not have time to fall asleep, and they would cut me alive, or that I would suddenly wake up.
Once on the operating table, I spent 5-10 minutes on my mind. They gave me a shot, and everything swam. Then I read that anesthesia is put on a sparing caesarean section, and therefore the patient may even feel something. I remember through a dream that they put pressure on my stomach and some voices, but nothing more.
I woke up in intensive care. At first, I could not get up, then I dispersed. Of course, my stomach ached, but everything blocked the joy of the fact that my daughter was brought to me, and for the first time I saw this little lively little ball. Actually that's all.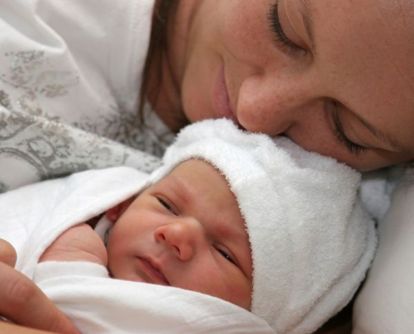 Being pregnant with my second child and knowing that I had to undergo surgery, I thoroughly approached the issue of studying anesthesia. Until the last day, I doubted which view I should choose. Although I read a lot of positive reviews, I was afraid of epidural anesthesia. I was especially afraid of a shot in the spine. But when the anesthesiologist spoke to me, all doubts disappeared, and I chose this particular type.
Now I had to be conscious all the time, but already, being an experienced mother, I was not nervous as much as the first time. The injection really became the most unpleasant procedure. Especially scary was the needle in a curved shape! The anesthesiologist put an injection in the back and the drug immediately began to act.
Feelings are hard to describe. As if you are lying in a huge wad of cotton wool. Consciousness is a bit clouded. When you speak, it turns out to be viscous. The anesthesiologist talked to me all the time about any nonsense, and the doctors discussed salaries and weather. Then I read that it is good – it means that doctors have nothing to worry about, and they just do the routine work for themselves.
Between the weather and salary conversation, my youngest daughter was born. For the moment when I heard her first cry, I would not hesitate to go this way again. They brought me a child, and for the first time I looked at this crumb.
After the operation, I was transferred to the ward, and I slowly began to move away from the anesthesia. And then there was pain. I don't want to frighten anyone, everyone has this moment differently, but I can say for sure the first time it didn't hurt so much. The nurses were very helpful in resuscitation. I am also glad that I took the book with me, I was somehow distracted. After about 12 hours, the pain began to subside, and in the morning it was already tolerated.
Having experienced both types of anesthesia, I can definitely say that I liked epidural anesthesia (if this word is applicable to the operation at all) more. Let the pain after Cesarean, I felt more, but then I immediately saw my child, I learned that everything is in order with her. I also heard her first cry and I will never forget this moment.