Reading is probably the most popular leisure option for expectant mothers, and sometimes dads. You can, of course, find necessary information about babies on the Internet, but you will agree that the books are more and more structured, and I also trust famous authors, for example, more than contradictory advice on forums.
There are now a lot of books on this subject sold, it remains only to make the right choice and have time to read. Today I want to present you my hit parade of publications for future parents, which I turned my attention to during pregnancy.
1. E.O. Komarovsky Child health and common sense of his relatives.
This is one of the first books of the famous pediatrician. Now their range has expanded significantly – from development diaries to fairy tales. The position and views of E.O. Komarovsky are very close to me, I like his manner of presenting the text – rather simple recommendations, not burdened with unnecessary details.
Information about diseases and preparations is quite understandable even to people without medical education, although basic knowledge of physics / chemistry / anatomy is, of course, necessary here.
The main idea of ​​the book is indicated in the title: common sense, it is on it that the essence of child care and its treatment is built. In the book, the doctor easily and readily dispels many myths – rubbing with vinegar and vodka at a temperature, mustard in socks, etc.
I also liked the brief information about many childhood diseases – the main symptoms and treatment methods. In spite of the fact that the full version of the book is available on the Internet, I have repeatedly asked for help precisely to the printed edition. And several times I even acquired the Health of the child and the common sense of his relatives as a gift for pregnant women and those who had already given birth to girlfriends.
2. Yu.B. Hippenreiter Chat with your child. How?
Julia B. Gippenreiter is a world-renowned professor in the field of psychology (not just a nursery, by the way). I would recommend reading this book to those parents who cannot find a common language with their child.
It is from this book that I learned that what happened in our relationship with our daughter is a completely natural and long-existing concept in the psychology of the relationship between children and parents. The motto of the book: How to make a child obey ?, but I would call him differently. For example, How to make the child not only heard, but also listened.
The book has many illustrative examples and everyday situations with real actors. All its content is permeated with the idea of ​​the most comfortable and positive parenthood, in which there are no shouts, hysterics and, God forbid, corporal punishment.
Probably, I will always remember the phrase from this book: It is better to deprive a child of a good than to make him ill. And for several years now she has been my motto in the process of raising a daughter. And, you know, my child really hears me and listens.
3. B.Spok Child and care for him.
Another very popular book among future parents. To be honest, my impressions from her remained twofold. On the one hand, there are a lot of really practical and useful advice, plus the author seems to be an experienced father of many children … And on the other hand, the information that the author died alone (in a nursing home) is alarming, because children refused it.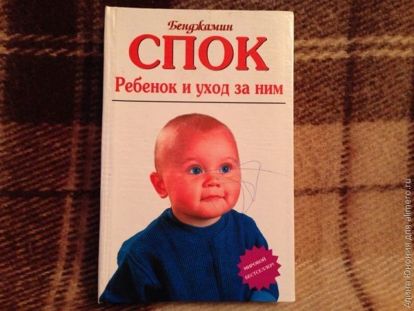 Information about whether the book was first published in the 50s of the last century will not be superfluous. I dare to suggest that some moments in pediatrics could change during this time.
In addition, I personally read the child and care for him was difficult. I often have such difficulties with the books of American authors – whether it is a matter of translation, or a special manner of presentation. Do not forget, again, in the difference of mentalities of the parents of the former Soviet Union and the Americans. Still, these are two big differences.
4. Encyclopedias about children.
I did not indicate the author, because there are many such books. Probably, knowing the tendency of pregnant women to bulk purchases of thematic reading, each publisher considers it necessary to release a book with a loud title like your baby from A to Z.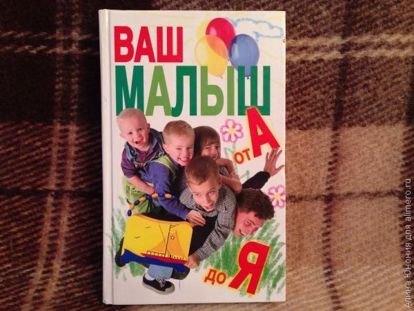 Often in such books the amount of useful information is minimal, especially for those who have already read Dr. Komarovsky's books. My advice to you: do not be lazy, scroll through several pages of the publication, and if you read outright nonsense, put the book back on the shelf.
For example, now I got it in order to take a picture, I opened it on the first page I got, and what do I see? Tip drip olive oil into your ears! At the next turn – a fact striking in its novelty that a child needs calcium for bone development. Then I did not read, and the money spent is a pity. Typically, these books contain well-known facts without a specific description of how to deal with problems.
5. William and Martha Sears Your baby from birth to two years.
The authors of the book are the parents of eight children, famous in the USA physicians. Yes, again, the difference in mentalities is felt a little during this time, but on the whole the book is imbued with such sincere and immense kindness that it is sometimes impossible to read it without a smile.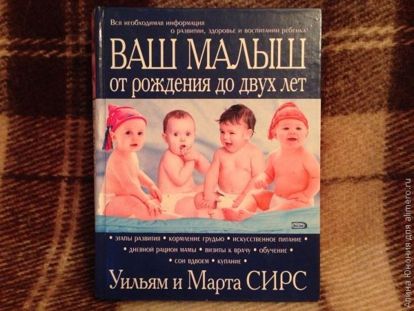 In the publication I found not only a lot of useful information on caring for a baby, but also a lot of useful recommendations on communication and establishing contact with him. Contrary to the popular current, do not take it in your hands, otherwise it will grow tame or let it cry, nothing will happen to it, the authors insist on the opposite. On the fact that most of all the kids need contact with the mother, her support and hugs.
I may be mistaken, but it seems to me that a woman was more responsible for the text. Somehow it is painfully clear, everything is available written. The book is read easily and quickly. It seems to me that she can safely assign the status of the desktop, along with the first book from my list.
And which books for future parents would you recommend? What did you read during pregnancy?