During the time that I am on my way to my high goal, a lot has changed in me. I began to realize how important it is to monitor my health. I began to love sports (or rather, just starting it) … And I gathered a lot of useful information (tips, secrets, comments, etc.), which I hasten to share with you 🙂
Wisdom and Tricks
First, I realized that sport is not a terrible punishment, but quite a fascinating occupation, if you do the exercises correctly and not in a hurry. You need to work at your own individual pace. If you can run fast, then run, and if walking is better, then you shouldn't be zealous. Most importantly, moderation! And the speed will come with time.
Secondly, I learned to run correctly, so as to improve my health. My coach explained to me the basic principles of running. First of all, the foot should rest on the toe, not the heel, and you do not need to press the foot into the ground, just a light touch. And if the heel rests, then you get tired faster, that's what a trick 🙂
In addition, it is very important to follow the breath. You can take a strong breath (two steps in the race) and a short exhalation (one step in the race). And you can have one short breath, one short breath. As it is easier for the body to work, so breathe, but it is important that the breathing is not chaotic, but organized.
And you need to follow the hands. They should be bent in logs (not under a direct degree, of course, but something close to that). Waving them is not necessary! Enough intense movements forward (to the level of the eyes) and back (the hands themselves will reach the extreme point.)
Learning to run properly is harder than it sounds. At first, the side may get sick, breathing is difficult, but one has only to be patient, and everything starts to turn out. Proper running is much more beneficial and contributes to weight loss, as well as recovery. Verified
Third, you need to start exercising and training with a warm-up. Run, stretch, burn back, stretch the muscles, and only then you can proceed directly to the lesson. By the way, warming up also helps burn calories and is such a mini-gymnastics. Very useful and important thing for athletes 🙂
Fourth, you must perform the exercises correctly! It is better to do little, but qualitatively, than a lot, but not correctly. The body will be worse. Also tested by experience 🙂
Fifth, the second breath always opens. Maybe in the last minute (second), but it opens. The main thing is not to give up. You can take a break for a while and rush back into battle. During the second breath, by the way, the most harmful calories are consumed.
I also want to share with you my success in stretching. I, maybe, have not yet reached my goal (everything is ahead) … However, stretching appears little by little, and back and neck pain disappear. Here they are the wonders of the sport! 🙂
Particular attention is paid to the legs. I throw my lovely foot on some kind of poverzhnost (a step on a sports ladder, a high stand, a washing machine, a third shelf of a bookcase, etc.) and stretch well. I do the same with the other leg. It is also good to raise the legs alternately sideways parallel to the floor until it stops. The same can and should be done back and forth.
For the neck, side to side rotations are useful, as well as slow circular rotations. Do not forget about charging when working at the computer. Once an hour you can take a break 🙂 It's not bad to make circular and wave-like movements with your back – this is how it does not freeze, but continues to live.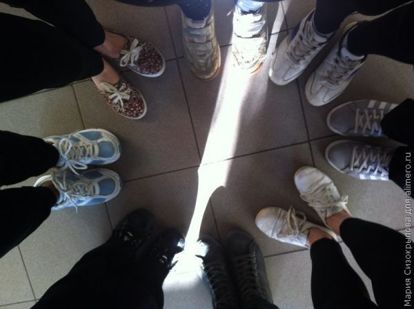 I have a few ideas. I intend to implement. No one wants to join? Do not be shy:)
First of all, I'm going to start every night to go three minutes earlier and get up two minutes earlier. So for a month I can reduce the excess sleep and use this time for something useful. And five minutes every morning I will do complex exercises. Honestly!
And I will drink more water and give up chocolate. For the time being, this whole process will continue until December 15. And then we'll see. I hope everything will work out.
By the way, I want to make my posture royal. Can you advise me something effective? There is not enough time to walk around the house with books on my head. May be something else?