Last week I rested on the sea with a child. Before leaving, I had an acute question about how and where to keep money in transport, on the beach, in a hotel? About what options I have found for myself, I'll tell you now.
It is clear that the question of the safety of money will not stand if your hotel has a safe. Especially if it is located at the reception. Or, if there are a lot of ATMs and terminals at the place of rest. Or, you will have a suitcase with a combination lock. But what to do if you go on vacation to places where you will not have such opportunities?
I remember when I was a child and went on vacation with my mother, the main places for storing money were mattresses in the room, pinning money to the back of the carpet on the wall or a drain flank. But now only the most lazy attacker does not look into these places.
Now, to be calm for your money on vacation, you need a little more to stretch your mind.
For myself, I have developed several rules for storing money and a few basic places for storing them.
Money storage rules:
1. Do not keep all the money in one place.
Or, as they say, do not put all your eggs in one basket. This is about the fact that cash can be broken up in parts and hidden in different places. Thus, in the event that an unpleasant incident does occur with one of the storage sites, I will not be completely without money.
2. Keep money in cash and on the card.
Despite the fact that in the boarding house where I was resting, there was not even a hint of an ATM, part of the money was on my card. I knew that in case of an emergency, I could always call a taxi and go to the nearest town to withdraw money from the card.
Money storage
It is clear that on vacation, few people sit for days in the room. Therefore, it is important to take care of keeping money not only in it, but also with you during walks, relaxing on the beach or traveling in transport. Consider each place to store money separately.
If you are not sure that keeping money in your suitcase is a good option, I suggest you several other options.
Money can be stored in any low-key book, especially if you have several of them, as I did. I put several bills between the pages of one of my daughter's books.
You can attach money under the furniture, from the bottom side, using an envelope and scotch tape. It is best to attach money to the furniture or appliances that will not move in the case of cleaning the room maid. This may be a refrigerator, TV, bedside table, wardrobe.
But in the storage of money in the room is not in his bag there is one big minus. If the money is discovered and withdrawn by someone, it will be difficult for you to prove that it originally belonged to you.
– Hairbrush

If the handle of your comb has a cavity inside, you can also use it to store money.
In the event that you have no one to leave money on shore, you can take it with you into the water. How? Here, too, there are several options.
– Scrunchy
I used this tool. I had a hollow hair tie, into which I sewed the folded money. Thus, they were always with me and I could always control the presence.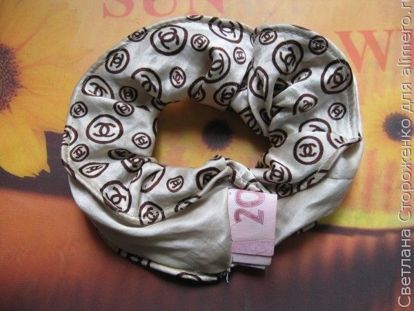 Once a wave splashed around my head and the rezinochka got soaked through. After coming from the beach to the room, I pulled out the money and dried it. Nothing happened to them.
They say that now on sale you can find special waterproof bags for money. They can easily be sewn into the bottoms or bra and not worry that someone will steal them.
– Suntan cream
I saw this method in some kind of comic video. The young lady used an empty tube of sunblock for storing keys and money in it.
This option is also peeped by me somewhere. The author proposes to pack the keys and money into a clean baby diaper, wrap it up as used and roll it in the sand.
This option is only suitable for those who have a small child. Otherwise, a used diaper among adult things will only attract attention.
3. During the walk
During the walk, you can use options such as a purse, a belt with a hidden pocket, an elastic band for hair, as I described above, or the same bags of money, hidden in underwear.
Maybe you know some other options for storing money on vacation? I would be glad if you share them with me.