Aqua aerobics, I was fascinated a few years ago by accident. The personnel manager at work offered us her as regular corporate events.
I'll tell you about everything in more detail.
In one of the schools of our city there was a wonderful pool in which the son of our colleague was engaged. And once the pool staff told her that they were recruiting groups for aqua aerobics. Group classes they held on Sundays. Their duration was two hours.
Water aerobics is a type of aerobics that involves performing various exercises in the water. To practice it, each of our company's employees needed to find a few hours of free time on Sunday, to have mandatory pool accessories (swimsuit, cap, towel, and soap supplies) and a good mood.
The main part of the payment for the lesson was assumed by the management of our company. We were also charged a purely symbolic amount of wages – 40 rubles per class per person. Convenient was the fact that you could take with you all the willing members of the family – both spouses and children. Moreover, for children held free separate classes in the children's pool.
I had neither a husband nor children at that time. But with great pleasure I agreed to participate in these events. First of all, I had never practiced aqua aerobics before, and it was very interesting to try it on myself. Secondly, I wanted to get to know my colleagues better, to see them not in a working environment, but in ordinary life.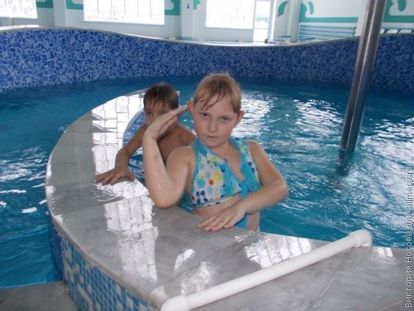 How did it go
From the very first lesson I literally fell in love with aqua aerobics. Reliably convey the whole atmosphere is very difficult, but I will try. At first, I went to the pool together with other female colleagues and swam a little. The men went swimming a little distance from us. After about 5 minutes, the instructor came in, turned on the rhythmic music, and began classes.
They were the most simple and quite ordinary: head tilts, turns, jerks with hands, jumps, etc. But the resistance of the water gave them a certain zest. To perform them was much more difficult than in the air. And not always everything worked out the first time. But we were not discouraged, they translated everything into a joke. Even the ability to swim was not at all mandatory.
Positive emotions at me then simply went off scale. In an instant, I completely disconnected from all thoughts. It was fun and interesting. The complexity of training did not create a large load on the body, it was easy, I would even say, somewhat weightless. In addition, we have previously chosen the usual developmental gymnastics. We refused to use strength exercises, because among us were colleagues of a rather advanced age.
Gymnastics lasted about an hour. The remaining time we could spend at our discretion. You could swim in the pool, go to the sauna, watch the children or drink a glass of oxygen cocktail.
An hour later, we are happy and full of energy back home. At first, I was very surprised by the surge of strength (I was determined that I would get a little tired as a result), but after a few classes I got used to it.
Water aerobics has become a great way for me to have a good time, and also very good for health. I did it even during pregnancy. Now, because of the lack of free time, I had to give it up. But I am sure that I will sign up again in the pool as soon as my son grows up.
Have you been doing water aerobics?