The importance of water balance has been talked about for a long time. But the fashion for drinking water was very late. Personally, I remember how in childhood the word wethawk was not a compliment at all. And every time my hand reached for a cup of water, it was this very term that stopped me. Over time, I have forgotten how to drink water. Slowly. Unnoticed.
Now I'm learning to drink again. Not tea, coffee, juice or juice, namely the most simple and ordinary water. True, the times of happy childhood, when the life-giving moisture could be collected directly from the tap, are irretrievably gone. And now H2O with the minimum amount of impurities has to be ordered to the house in 20-liter bottles.
Looking at the cleanly washed dishes with lime marks, I wonder how our generation has not died out from drinking this liquid in unboiled form.
What made me start drinking again? Endocrinologist As everyone already knows, I have here a little personal crusade in the struggle for normal weight and long life. So, it turns out, tea, coffee, fruit drinks and everything else is food. Someone has long been aware of this circumstance, but for me it was a revelation.
Our body is not able to function without moisture. Everybody suffers – brain, skin, internal organs. But the brain and the skin – in the first place. It turns out that the phrase about withered brains is not at all far from the truth.
To keep track of the water balance, my doctor recommended the Waterbalance program, which you can easily download from Google play and install on your smartphone, tablet – in general, any device on android. Let me tell you about it. I apologize in advance for the quality of the photo, but it was not so easy to photograph the phone.
After installing the program, we will be met by a window with two active buttons — fill in the profile and start now. Click the first and go to the new menu. Now we are interested in personal data.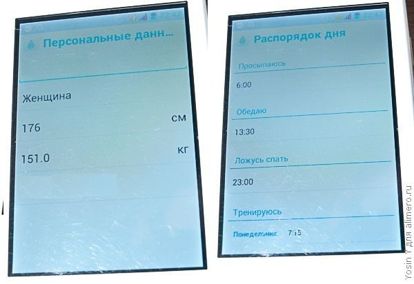 Fill – name (optional), height, weight, age. The program needs this data in order to calculate the water consumption rate. If we compare it with other similar programs, Waterbalance gives a slightly sick rate. But then it is almost equal to the one that the endocrinologist calculated for me. So we will consider it as faithful as possible.
After that, fill out the daily routine, returning to the previous menu. Here you need to put down the time of rise, lunch and sleep. Then the program will automatically remind you that you should drink. Training time will also be tracked.
And now the fun part! Go back to the first menu and click start now!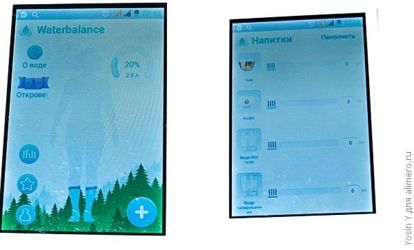 Click on the plus sign and get into the drinks menu. Each of them you can add by sliding the scale. The scale has a division of 50mg. Add water – and see how the silhouette of the girl is filled with water. Add tea or coffee … and you will see how the water is rapidly disappearing from the silhouette!
For me it was a shock that the first two weeks, it turns out, my body did not receive water in principle! All that I saw was leveled by drinking coffee! Now my average water consumption is 0.2 liters per day. And this can be considered a progress. By the way, the program itself keeps statistics and awards medals for good results. Trifle, but nice.
Now I regularly add to the program every cup I drink. And she practically refused tea. Why not do it for the sake of health! One thing is not clear: in which column should you add a drunk karkade? It seems not tea, but not juice … while adding to another.
And also: it's better to drink more in the morning and having a (close) toilet nearby. If you drink in the evening – get swelling. Drink away from the magical place – you will look for bushes. Kidneys with unaccustomed make surprises.
And on Tuesday I will talk about another of my favorite program. After all, only thanks to her, I realized that I was not losing weight at all!