The problem of losing weight worries many women, including me. In principle, I am satisfied with my weight, but I am inclined to be overweight, and sometimes I also want to have a smaller size. From time to time I go on a diet.
But recently, I began to receive compliments from others. Many people told me that I was very thin and asked how I did it. I weighed, and indeed, in two months it took about 7 kilograms.
Then I thought about it, I didn't sit on diets, how did I manage it? The answer turned out to be simple – walks with children!

Sport
Unfortunately, I am not friends with sports. Going to the gym or doing it yourself is not for me. But at the same time, I understand perfectly well that sedentary work does its job, there appears not only extra weight, but also a lot of other problems.
Now in the morning with the children, I try not to be lazy, but do light exercises. Children really like, and it is useful for me.

The benefits of walking
The fact that walking is good for health, many doctors say. I agree! Instead of any physical exertion, I prefer walking.
When I was working, I tried to leave the house early and walk one or two stops to work on foot. Also, I often go home not on an elevator (I live on the 6th floor). But, of course, if I return home alone, and not with children.
Doctors advise to walk about three kilometers a day. I sometimes think that sometimes I go through much more.

Walking with children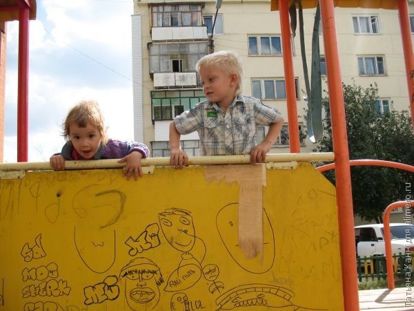 And yet now I purposefully do not do walking. And, nevertheless, I managed to lose weight, and without noticing it. Without terrible diets, although I have been trying to eat right for a long time, but I allow myself sweet, flour and fatty foods.
As I found out, walking with children is very useful not only for them, but also for me. My girls are very active, they do not sit still for a minute, they rush constantly, and I have to be near them. Sometimes, it seems that at least in two parts burst to catch them.
And they want to ride on everything: on a swing, roundabouts, from a hill. Run for the birds or climb the ladder. They can not be left unattended, they are still too small.
Often we walk not only in the yard on the playground, but also go to the school, which is near. There, kids are happy to run, and I'm with them.

In the country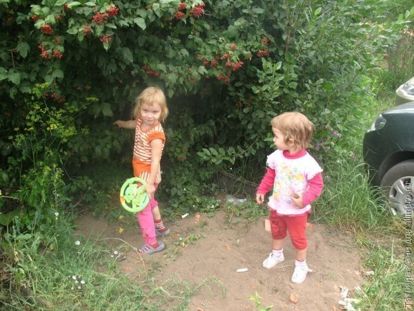 We often go to the country. And this is also useful for my figure. There kids run, play. I should have time to not only follow my daughters, but also work out the beds. It turns out a kind of fitness. And absolutely free.
We can say that walks with children have double benefits. Children are well, they breathe fresh air, play, communicate with their peers. And it is useful for me – I'm losing weight.
Sometimes I envy moms who sit quietly on the bench while their child is busy in the sandbox, but then I would not be able to lose weight. So it's good that my girls are very active.