One of my favorite methods of bringing weight back to normal is fasting days. You need to last only one day, and in return you get a feeling of lightness, a desire to save the result and eat more wholesome food, a plus to strength of will and pride in yourself.
I already wrote about one of my favorite drinks for fasting days – milk, but you don't always want a hot one. Therefore, for warmer days (and for a change), I prefer a banana-kefir smoothie.
I don't remember how I learned about this kind of fasting days, maybe I pulled out a recipe from some kind of diet and used it for my own purposes 🙂
What about the calorie bananas?

I think many of you will be surprised how you can spend fasting days on bananas, because they are so high-calorie and sweet! To be honest, I do not really like the calorie counting system, because It seems to me that the composition of the product is more important than its caloric content.
If you take a piece of cake and a banana, the same in the number of calories, then, in my opinion, the difference will still be. It seems to me that the body will digest the fruit with pleasure and ease, take nutrients from it, unlike the fat cake, prepared using a large number of ingredients that have been subjected to different processing methods.
Plus, eating a banana as a snack several times a week, I did not see weight gain, quite the contrary. But when tea with sandwiches, which are approximately equal in calories to nourishing fruit, extra centimeters appeared at the waist. Therefore, I am not afraid of bananas, but on the contrary, I often use them in the fight against extra pounds.
The essence of the unloading day

For a banana-kefir unloading day, three ripe bananas and a liter of kefir will be required (fat-free is usually recommended, but even at 2.5% fat content, it seems to me, not much different). During the day we eat these two foods instead of breakfast, lunch and dinner. In between, you can drink tea without sugar and water.
To avoid being bored, I make simple dishes out of these two ingredients. For example, I cut slices of a banana for breakfast, put it in a bowl and pour kefir into it – it turns out a salad that you eat with a spoon. In the next meal I mix a banana with kefir in a blender – this is already sweet drinking yoghurt.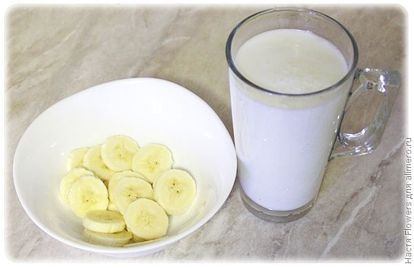 For dinner, I just eat a whole banana, and before bedtime I drink the remnants of kefir. Although these were the same products, it's not so difficult to survive the day of discharge due to the different feeding method. The main thing is to occupy yourself with something interesting, so as not to think about food and not to run hither and again to the refrigerator.
results

On such a discharge floor, I get about a kilogram. Usually in the evening I still want to eat, so I try to distract myself and go to bed early. But the next morning, bursting with pride for himself, plus a pleasant sensation of lightness.
The most important thing and after a fasting day to adhere to proper nutrition!
By the way, all the above options for the use of bananas with kefir can be used instead of snacking – it turns out quite satisfying and tasty. I especially like a smoothie, as a banana makes kefir sweet and more nutritious.
And what do you think about the calorie content of bananas? Do they eat during a diet?